Rachel Lomax says 'no' to Bank of England boss post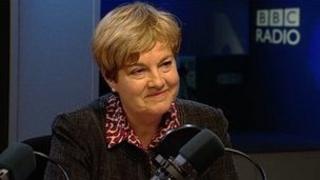 The former deputy governor of the Bank of England Rachel Lomax says she will not be applying to be the bank's next governor.
The economist - who previously sat on the Bank's Monetary Policy Committee - had been named as the leading female candidate to take over from Sir Mervyn King.
Sir Mervyn is due to step down next year.
Ms Lomax made the remarks to Evan Davis on Radio 4's The Bottom Line.
Ms Lomax, who was deputy governor from 2003 to 2008, discussed her time working for the Bank the lead-up to the financial crisis, and outlined the characteristics she thinks the next governor will need.
She left just before the collapse of Lehman Brothers in 2008.
She described the period she was there as "one of sort of unreal calm for the first four years and then this very terrifying period, the last year I was there, when markets froze.
"We knew that something was bad happening, but we really didn't know, couldn't really imagine how bad it was going to be. I mean, I left the bank just before Lehmans collapsed and it's got a lot more interesting since I left."
She said Sir Mervyn's successor would have a "huge job".
The Bank is adding to its current role and is taking over from the Financial Services Authority.
It will be in charge of overseeing the banking system, financial firms and the system in general to prevent new speculative bubbles appearing.
No women
"It's going to be a very different organisation - much bigger and more complex organisation than the one that Mervyn King's presided over. So you need someone who can get their mind round that and at least sort of lead the change and put together the team that can implement it."
She said the job was not for her and that "life had moved on". She also expressed disappointment that there are no other credible female candidates.
Ms Lomax is now a non-executive director of HSBC, where she is also a member of several audit and risk committees.
An advert for Sir Mervyn King's replacement was published in the Economist magazine last Friday.
A Bank spokesman confirmed to the BBC that the issue of compensation for the next governor had yet to be decided.
Sir Mervyn benefited from a final-salary pension scheme that will pay him an annual pension of just over £200,000.
His basic salary - frozen since 2010 - is £305,000 a year so the Bank may have to offer his successor a less generous pension, and may have to pay a higher salary.
Rachel Lomax appears on Radio 4's The Bottom Line on Thursday, 20 September at 20:30 BST. Listen again to programme via the Radio 4 website or The Bottom Line download.