Petrol prices: Are you affected?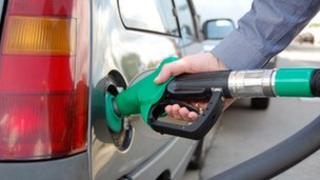 Are we yet again heading for record prices at the pumps?
Petrol prices are heading towards record levels again. Unleaded petrol was about £1.40 on Monday, creeping steadily towards the £1.47.93 record set on 12 April, according to Experian Catalist, who collate these figures.
Things had been getting better as the price of oil came down early in the summer, but big rises are occurring again.
It is hard to identify a single reason why motorists are paying so much - tensions in Iran, claims the fuel companies are slow to drop prices, too much tax.
But this may matter little to the average driver, who is being hit the hardest.
There will be a lot of pressure on Chancellor George Osborne to once again postpone a 3p tax rise, due in January.
In the meantime, surveys show fuel prices are forcing people to make big changes in their lives.