Fedex cuts profit forecast on weakening world economy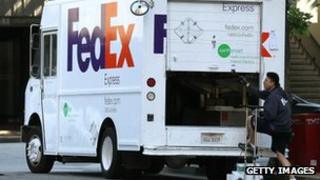 Global shipping service company Fedex has cut its full-year profit forecast, warning that the global economy is continuing to weaken.
The company, whose earnings are widely watched because of the number of countries it does business in said its net income for the first quarter had fallen 1% on last year to $459m.
Fedex said it expected annual profits to be about 10% lower than expected.
Customers are moving business from air to slower and less expensive routes.
Fedex is the world's second largest package delivery company.
It said that makers of electronics and mobile phones had begun to send cargo by sea because competition was eating into their profit margins meaning they needed to cut delivery costs.
Fedex's chief executive Fred Smith said: "A lot of traffic is moving onto the water because moving goods by air is very energy-intensive."
He said the high cost of jet fuel was making air freight too pricey.
Fedex is scaling back its air freight division, cutting routes and mothballing planes.
It said it planned more cut backs and would give further details in October, although it said these would not involve job cuts or "draconian steps".
Mr Smith founded the company in 1971, originally as an air freight business.