Lawyers face tax dodging scrutiny from HMRC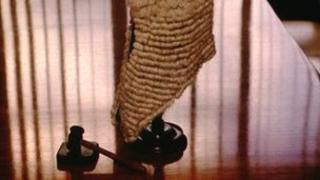 Tax inspectors are to target the legal profession among others during their latest trawl for suspected tax dodging.
Solicitors and barristers in London will be examined for a suspected shortfall in tax payments of £3m, HM Revenue and Customs (HMRC) said.
The Bar Council, which represents barristers, said it was surprised by HMRC's intervention.
Other sectors to be investigated include motor traders in Scotland and hair and beauty specialists.
HMRC investigators will visit traders and inspect their books.
"These taskforces bring together specialists from across HMRC to find people who are not paying what they should," said Mike Eland, of HMRC.
"If you have paid all your taxes you have nothing to worry about. But for those deliberately evading tax, be warned that HMRC is coming after you."
Collection target
The UK tax authority has previously launched 30 "taskforces" to make rapid inspections of various trades and professions.
These have included the rag trade - involved in the import, wholesale, marketing and sale of clothing - and the motor trade, as well as indoor and outdoor markets. Restaurants and scrap metal firms have also been put under the microscope.
HMRC said that it expected to collect £50m in unpaid tax owing to the work of existing units, as part of a wider campaign aimed at tackling tax avoidance, evasion and fraud.
The latest sectors announced to be targeted, as well as lawyers, are:
Grocery and retail in South and North Wales, the North West of England and the South West of England - expected to bring in £3.75m
Hair and beauty in the North East of England - expected to yield £3.75m
Restaurants in the South East of England and the Solent - expected to discover £2.5m
The motor trade in Scotland - expected to bring in £3m
"We have made it clear that we will not tolerate tax evasion and we are determined to crack down on the minority who choose to break the rules," said the Exchequer Secretary David Gauke.
The clampdown would include searching for unpaid VAT or missed tax returns, HMRC said.
'Concerns'
Michael Todd, chairman of the Bar Council in England and Wales, said: "We were unaware, until yesterday, that HMRC had specific concerns about the tax affairs of lawyers.
"We are concerned that HMRC has chosen to proceed in this manner, rather than using the channels of communication with the relevant professional bodies, which have always been open. In future, we would welcome a greater level of engagement with HMRC, so that we can better assist it in carrying out its duties to the public."
Accountants have also questioned whether many solicitors would ever take the risk of providing advice for cash or other unregistered payments in kind, especially as they could leave themselves open to litigation if that advice was wrong.
"Lawyers are professionals, regulated tightly by their professional bodies, and a conviction for tax fraud would put an end to their careers," said Tim Gregory, a partner at accountancy firm Saffery Champness.
"While every walk of life has its bad eggs, only an exceptionally unusual lawyer would risk their livelihood by cheating the system, so it seems unlikely that there can be many for HMRC to investigate."
Previous taskforces have led to at least 13 criminal investigations.
"The range of groups targeted in this latest announcement shows how widely HMRC are casting their net - from High Street barbers to High Court barristers," said Gary Ashford, who represents the Chartered Institute of Taxation.
"The use of a taskforce tells us that HMRC have evidence of evasion in the sector that they are targeting. Lawyers are the first professional group to be covered by a taskforce."
Other areas of the campaign have encouraged other professional groups such as doctors, dentists, tutors and coaches to come forward with unpaid tax or face fines, instead of receiving visits from inspectors.