Gloomy carmakers gather in Paris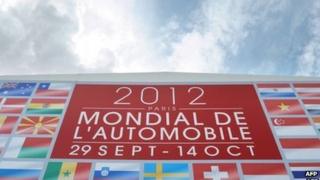 The European motor industry is in crisis mode again as it gathers in Paris for the biennial motor show.
The debt crisis in the eurozone, sluggish economic growth and limited access to finance for consumers, have combined to weaken sentiment.
The result has been a 7.1% fall in car sales in Europe so far this year, with some southern European markets seeing sales slump by about a fifth.
"There are a lot of challenges," Ian Robertson, BMW's management board member in charge of sales and marketing, tells BBC News.
"The south is particularly challenging and we expect that to remain the case."
Alan Rushforth, chief operating officer of Hyundai in Europe, agrees.
"It's going to get a bit tougher, actually, in terms of the economic backdrop and consumer confidence," he tells BBC News.
Still opportunities
It seems no carmaker has escaped the dramatic downturn in European sales unscathed.
But the pain has not been equally shared.
When compared with their rivals, both premium carmakers, such as BMW, and budget manufacturers, such as Hyundai, are doing rather well, in spite of their executives' pessimistic assessments of the market.
By contrast, mid-market players - such as the French manufacturers Renault and PSA Peugeot Citroen, as well as Ford of Europe, Opel/Vauxhall and Fiat - are having a torrid time, suffering falling sales, profits and market shares.
"I would draw the differentiation between businesses that are focused on Europe, and those with exposure to international markets where there's growth," says Paul Everitt, chief executive of UK motor industry body Society of Motor Manufacturers and Traders (SMMT).
"Businesses that are mainly focused on Europe are clearly having a more difficult time."
Sergio Marchionne, chief executive of Fiat Auto agrees. "The European car market is a disaster," he says.
"It has plunged off a precipice that doesn't seem to have bottomed out yet. The prospects are anything but rosy," he says.
And that, reasons Mr Rushforth, offers an opportunity for others.
"Given the vulnerability of our competitors at the moment, we continue to see Europe as an opportunity," he says.
Below and above
Europe's mid-market players have come under sustained attack on two fronts.
Fast-growing South Korea rivals Hyundai and Kia are coming from below, challenging their hegemony with competitive models designed in Germany and manufactured in the Czech Republic and Slovakia.
High-end marques such as Jaguar Land Rover, Audi, Mercedes and BMW, meanwhile, are expanding above the mass-market players, with aggressively priced premium models, or with downsized luxury cars that are making land-grabs in already crowded segments of the market.
Audi, for instance, has been selling more cars than both Fiat and Citroen this year.
"Mid-market manufacturers, specifically those that are European-based, are currently experiencing the kind of market conditions not seen since the depths of the 2008 financial crisis," according to IHS Automotive analyst Tim Urquhart
Stuck in the middle, many of the mid-market players are eager to reduce their manufacturing capacity to adjust to the shrinking and increasingly crowded market.
But trade unions and European politicians, eager to preserve jobs, have long resisted such efforts.
Here in France, for instance, plans by PSA Peugeot Citroen to cut 8,000 jobs and close the historic Aulnay plant have been met by demonstrations and widespread anger.
Ford, meanwhile, has announced that it will axe several hundred jobs in Europe in a move that should help it cut costs, though it will do little to address the capacity issue - industry watchers say Ford uses less than 65% of its capacity in Europe.
And so, unable to make the sort of cuts demanded by market forces, Europe's carmakers operate in a market plagued by excess capacity that makes cost control tough for carmakers unable to sweat their assets.
Luxury boom
Over-capacity is not a problem shared by the premium brands. Strong sales growth around the world has left them needing more, not less, production capacity.
"We are running most of our plants on full capacity and it's no secret that we are adding some capacity in many countries as well," says BMW's Mr Robertson.
"We're building extra capacity in China, we're expanding in the United States, were building in the United Kingdom, in Oxford, and we're in the final stage negotiations about taking a plant to utilise in the Netherlands."
BMW's main rivals enjoy similar success, according to IHS Automotive.
"The premium manufacturers head to Paris riding a wave of confidence from record sales volumes and revenue," says Mr Urquhart. "They are flushed with cash from the recent accelerated sales growth driven by the US and emerging markets, specifically China."
Red tape
Europe's mid-market carmakers are also part of global groups or alliances that offer support.
Opel/Vauxhall is owned by General Motors and has formed an alliance with PSA Peugeot Citroen, Ford of Europe's parent is obviously Ford in Detroit, Fiat's alliance partner is Chrysler, and Renault is in an alliance with Nissan.
And given recent advances in areas such as road safety or carbon emissions reductions, there are good reasons why they should be able to compete on the global stage.
But some in the industry feel European authorities, both in Brussels and in individual nation states, should be more supportive. They see the European Union's regulatory framework as stringent and believe it has made the region's carmakers uncompetitive elsewhere.
"Optimising [Europe's] competitiveness is key in an increasingly globalised world," says Fiat's Mr Marchionne.
"We are facing a crossroad, the choice is between reducing output capacity and firing thousands of employees... or trying to use our skills, our knowledge of products and processes, the technology of our plants, to make inroads in foreign markets."