JD Sports profits knocked by Blacks Leisure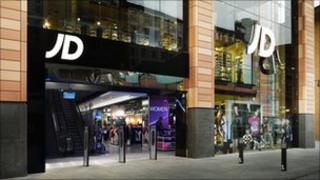 Sports fashion retailer JD Sports has announced a sharp fall in profits due to losses at its newly-acquired Blacks Leisure chain and the cost of moving warehouses.
Pre-tax profits for the six months to 28 July were £2.88m, down from £20.1m a year earlier. However, revenue was up 26% at £556m.
The retailer had already warned that Blacks would knock profits this year.
The company said it was on course to meet its annual profit targets.
JD said it had incurred an initial loss of £10m on Blacks, which it bought in January this year, due to a lack of stock and high costs.
Costs from acquisitions last year and from moving across to its new warehouse in Kingsway, Rochdale, also knocked profits, it said.
"I stated in April that the recent expansion activity in the group, the relocation of distribution facilities and the resolution of the stock and property issues in the Blacks business would impact results in the short term," said JD executive chairman Peter Cowgill.
"As expected, this has proven to be the case but it does provide the group with a very positive platform for future development."
Mr Cowgill added that the company had increased its presence overseas during the period.