Fortescue shares rise on debt deal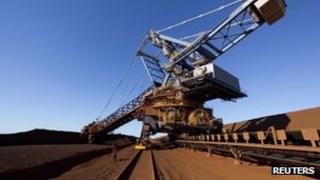 Shares in Fortescue Metals Group have surged after the Australian miner secured a $4.5bn (£2.8bn) credit facility to pay down debts and boost liquidity.
The credit facility extends the company's repayment deadline for its debts to November 2015.
Earlier this month Fortescue put its expansion plans on hold and announced job cuts amid slowing demand and falling iron ore prices.
Shares in the miner were up 17%.
Chief executive Nev Power said Fortescue had "moved quickly to ensure its capital structure can withstand prolonged market volatility".
The financing, underwritten by JP Morgan and Credit Suisse, will be used to pay off Fortescue's existing debts, believed to be about $3.6bn, leaving it with some $900m headroom.
The company, which was founded by billionaire Andrew Forrest, also said it was in talks to sell some of its assets.
"Strong interest has been expressed to Fortescue by a range of parties interested in partnering with Fortescue in certain of its assets. Fortescue is currently evaluating these approaches," it said in a statement.
But it added that any such deals would only be pursued if they "clearly add shareholder value".