India invites ever more foreign investment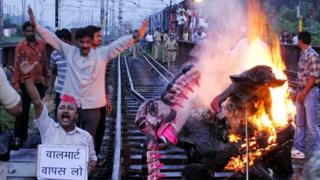 "FDI hai hai!" was the rallying cry for thousands of India's small-shop owners, traders and labourers on Thursday.
Their message was as simple as their chant; that foreign direct investment was "bad bad!", and would hurt the country.
But while their protests were triggered by the government's latest plans to open up the retail industry to multinational companies, the impact of foreign firms and their money is not so cut and dried.
India, contrary to the often chaotic image it transmits to the world, has been taking steady and concerted steps to open up its economy over the past two decades.
The process was jump-started in 1991 by the current Prime Minister Manmohan Singh when he had the finance brief, and it has been carried on ever since with varying levels of success by successive governments, regardless of party politics.
"Here is a transitional country in an international system," says Anupam Srivastava from Invest India, the government-nominated agency for investment promotion and facilitation.
"It was not known for the ease of doing business, it was not very high on certain market openness indicators, corruption has been seen as a widespread phenomenon. But the government is tackling very important issues on openness."
Today, Mr Srivastava says, "most sectors of the economy are open."
Growing business
According to the latest government figures, foreign direct investment, or FDI as it is commonly known, has risen more than fivefold over the past eight years.
FDI into India during the 2011-12 fiscal year totalled almost $47bn (£29bn), up from $35bn in 2010-11 and dramatically higher than pre-2005 investment of less than $10bn per year.
The biggest destinations of foreign money have been the services industry, telecommunications, computer software and hardware, as well as construction and real estate.
In real terms, this means that a foreign firm would have no problem acquiring 100% ownership of an airport, a cash-and-carry or wholesale trading operation, a scientific or technical publishing house, a mining or oil exploration operation, or an industrial park.
India has been careful, however, to limit access to areas of the economy where there are concerns in relation to either national security or where there might be a serious social impact.
As a result, there is a currently a ban on foreign firms buying into businesses such as lottery firms, atomic energy producers or manufacturers of cigars, cheroots, cigarillos or cigarettes.
Other industries, which include the now controversial and protested-against multi-brand retail sector, have a varying degree of investment opportunities ranging from just over 20% to a controlling 51% stake.
It can make for a confusing investment landscape, something that many analysts say will have to change if India is to unleash its full economic potential.
Learning curve
Take the telecommunications industry. By some estimates, it makes up only 0.5% of India's total economic output, or gross domestic product, yet it has received $57bn of FDI since 1991, equivalent to some 7% of the total investment into India.
That investment has nevertheless helped create what Madan Sabnavis, the chief economist at Care Ratings, calls a "telecommunications revolution".
"The benefit of FDI cannot be disputed in a resource-starved nation like ours," he says.
"Not just money coming in, but also technical know-how."
It is this effect that the government is hoping its latest round of reforms will precipitate, not least because the retail industry already accounts for a much chunkier 8-10% of India's GDP.
'Harder reforms'
But despite the government trumpeting the positives of FDI, it is never just about economics in India.
For many observers, the retail sector has become the latest testing ground to see if the current government can revive a programme of reforms it promised but failed to deliver.
At the end of last year, it was forced to reverse its earlier decision on mulit-brand retail amid pressure from opposition parties that have small farmers and small business owners as their main voter base.
Both opponents and allies are watching to see if it can stay the course this time, not least because some experts say more needs to be done in areas such as land acquisition and education.
"Industry has stalled, there are no jobs being created," says Akshay Mathur, head of research at Gateway House, a Mumbai-based think tank.
"Meanwhile, millions are coming into the workforce. We need creative ways to grow.
"Eventually we will have to get to those harder reforms."