China protests: Fears rise over Japan-China trade ties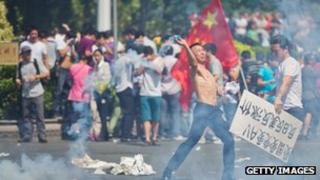 There are fears over the economic impact of the dispute between China and Japan if the row over islands in the East China Sea is not resolved soon.
Several major Japanese companies have suspended operations in China after attacks on shops and car dealerships.
Shares in some of those firms fell in Tokyo on Tuesday. The Japanese government has asked Beijing to do more to protect Japanese businesses.
Trade between China and Japan is worth about $345bn (£212bn).
"This is a major concern. The worry is that if it is not dealt with properly and fast enough, the situation may get out of hand," Martin Schulz of Fujitsu Research Institute told the BBC.
"And any such development will hurt Japanese firms even further."
Japan's Chief Cabinet Secretary Osamu Fujimura said Tokyo had asked Beijing via diplomatic channels to take necessary steps to protect Japanese nationals and prevent further damage to Japanese companies in China.
"Japanese companies play an important role in the Chinese economy and employment. We believe we should be calm and make rational judgements from a broad perspective," he told reporters.
Nissan Motors shares dropped 5% in Tokyo, Uniqlo-owner Fast Retailing fell 7% and Honda Motors was down by 2.5%.
The protests in China followed Japan's purchase of islands known as Senkaku in Japan and Diaoyu in China, over which China claims sovereignty.
'Hot trade'
Although firms have suspended operations temporarily, there are fears the protests may escalate further.
Seijiro Takeshita, director of Mizuho International, the second largest financial group in Japan, said that both Japan and China stood to lose from the row.
"The political situation between the two countries is very cold, but the trade situation is very hot," he told the BBC, referring to the importance of the economic ties between the two.
He added: "Japanese brands are among the top noted brands in China. It is a very big issue for the Chinese to make sure that Japanese investment is perpetuated."
On Tuesday, Japanese supermarket operator Aeon and Uniqlo owner Fast Retailing said they had shut several stores in China. Toyota and Sony also suspended some production.
The latest stoppages followed similar moves by other Japanese firms on Monday, mostly in areas close to the East and South China Seas.
'Robust ties'
But Sarah McDowell, senior Asia analyst at IHS Global Insight, told the BBC that although in the short term there would be some effect on the Japanese business community in China, there was "unlikely" to be any impact overall on bilateral ties.
"The two countries are very economically interdependent. We've seen calls in the past for boycotts of Japanese goods that have started in the political sphere," she said. "But both governments have managed to maintain pretty robust trading ties."
She pointed to the situation in 2005, when Junichiro Koizumi, the Japanese prime minister at the time, visited the controversial Yasukuni Shrine in Tokyo, leading to similar calls for boycotts, which never materialised.
The shrine is dedicated to Japan's war dead, including war criminals, and is viewed by many of the country's neighbours as a reminder of Japan's military past.
There are also concerns that this week's protests may derail plans by Japanese companies looking to expand in China.
China is known for being a low-cost manufacturing base and several Japanese manufacturers have set up factories there.
These operations have become even more important in recent times amid a strong Japanese yen, that has made goods produced in Japan more expensive for foreign buyers.
But Ms McDowell believes that if Japanese firms do decide to look elsewhere, it will be because of other factors, such as the recent rise in labour costs in China.