EADS and BAE deal needs 'thorough examination'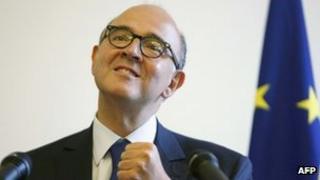 France's finance minister says the planned merger of defence giants BAE and EADS needs close scrutiny raising fears of delays through political wrangling.
The tie-up raised "a lot of questions" over "strategic interests" and "industrial effects," Pierre Moscovici said.
Mr Moscovici said the proposed deal must be "examined thoroughly".
The merger would create the world's largest aerospace and defence firm.
Mr Moscovici, who was addressing a press conference in central London, said "it will take time" to address the various issues linked to the proposed merger.
Concerns included employment and the governance of the merged company, according to Mr Moscovici.
The press conference came after Mr Moscovici held regular talks with his British counterpart chancellor George Osborne.
Local concerns
Elsewhere, about 20 Mps from all parties held talks with representatives of BAE and EADS to raise their concerns about their proposed merger.
The meeting was chaired by Ben Wallace, a Conservative MP whose Wyre and Preston North constituency includes BAE's Warton factory.
Afterwards Mr Wallace said he was given no guarantees about jobs, although BAE told MPs that the proposed merger would not affect existing projects.
BAE also said there was almost no overlap between the two defence companies so if the merger did go ahead it was not expected to lead to cutbacks in the British workforce.
'Golden share'
Under the code of the UK's Takeover Panel, the deadline to finalise the details of the deal is 17:00 BST on 10 October.
The French state together with the French media-to-aerospace group Lagardere hold 22% of EADS. Germany's Daimler also owns a 22% stake in EADS, but has pledged to sell a third of this to the German government.
Meanwhile, the UK has a special "golden share" - a holding that blocks unwanted takeovers - in BAE.
Under the plan being discussed, the two groups would issue special golden shares in BAE Systems and EADS to each of the French, German and British governments.
Under the terms of the proposed union, BAE Systems would own 40% of the enlarged group, with EADS holding a 60% stake.