Hamleys toy chain sold to French firm Groupe Ludendo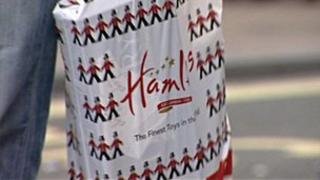 The 250-year old toy chain Hamleys has been taken over by a French toy retailer for a reported £60m.
The chain, whose flagship store on London's Regent Street calls itself the biggest toy shop in the world, has a total of eight outlets in the UK and Ireland and stores around the world.
The buyer, Groupe Ludendo, has 300 toy stores in France, Spain, Belgium and Switzerland.
Hamleys was mainly owned by the nationalised Icelandic bank Landsbanki.
It is auctioning its assets to return money to its shareholders.
The bank took control of Hamleys when its previous majority shareholder, the Icelandic investment giant Baugur, collapsed in 2009.
Ludendo chairman Jean-Michel Grunberg said the stores were unlikely to change: "We have the utmost respect for the Hamleys brand and heritage, as well as the unique interactive retail environment of fun, entertainment and theatre that it has created.
"We have every intention of maintaining this unique brand and what it stands for, and building on its successful international development."
Ludendo, whose outlets in Europe include La Grande Récré and Starjouet, said that the takeover gave it access to new markets including in the UK and Asia as well as a wider presence in the Middle East.