HSBC to allow Post Office access for customers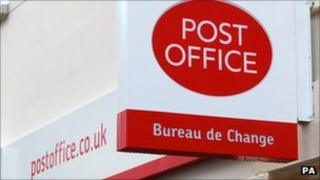 HSBC is to allow customers to use the Post Office counter network for basic transactions following criticism by the government.
Most UK banks, except for HSBC and Santander, allow customers to make withdrawals and deposits at post offices.
A previous consumer minister last year accused the duo of "holding out" against offering the service.
HSBC said that it was changing its policy owing to customer demand.
A year ago it had claimed that fewer than three in 10 of its customers actually wanted such access.
'Delight'
From spring 2013, nine million HSBC and First Direct customers will be able to withdraw money, deposit cash and cheques and check balances at all 11,500 Post Office branches in the UK.
These customers already have access to 1,200 HSBC branches in the UK. However, the bank closed 50 branches in 2011 and 36 so far in 2012, blaming reduced local demand.
A spokesman for the bank said that it was among the last to offer this service, but was doing so now as a result of a "groundswell of opinion" from customers. He said it was unclear why customers' views had changed.
Last summer, watchdog Consumer Focus suggested that four million customers of High Street banks used the Post Office network to use some current account services.
It claimed that up to 18 million people could go to the network for their banking needs if access was widened.
The consumer minister at the time, Ed Davey, said HSBC and Santander were "holding out" against such access.
The new Consumer Minister Jo Swinson said she was "delighted" about HSBC's change of policy.
"The government has been clear that we would like everyone to be able to access their current accounts at post offices and the deal means that 95% of all UK debit cardholders will be able to do this," she said.
"The Post Office... [provides] unparalleled reach into communities up and down the country."
Consumer Focus said that the move was a boost for those in rural areas and for the Post Office itself.
The deal leaves Santander as the only major UK bank not to offer such access.
"[We are] committed to achieving a position where current account holders of all the major UK banks can access their accounts at Post Office branches," said a Post Office spokesman.