Co-op stops offering bank accounts to bankrupts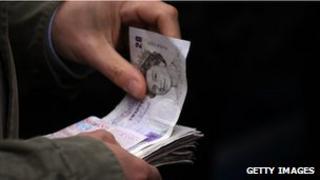 People recovering from bankruptcy will no longer have a choice over where they can access a bank account as Co-op withdraws from the market.
Only the Co-op and Barclays offered accounts to those who are undischarged bankrupts - generally those within a year of a bankruptcy order being made.
The former has said it will no longer accept new customers of this type, blaming an "un-level playing field".
It said existing customers in this situation would not be affected.
'Disproportionate'
People who have been made bankrupt are generally only allowed to open a basic bank account.
These accounts do not offer overdrafts. Some have a debit card, but only with limited facilities. They do not incur a monthly fee.
There are about 20 basic bank accounts available, but now only Barclays allows undischarged bankrupts to sign up.
Barclays said it had no plans to reduce the accessibility of its account, which has been in place for 12 years.
However, the Co-op has changed its basic Cashminder account, arguing that all banks should work equally to offer help to those who have been financially excluded.
"Across the industry there has long been an un-level playing field in the provision of basic bank accounts, with our bank doing far more than most, and we have been calling for some time for this to be addressed," said John Hughes, managing director of retail banking at the Co-op.
"Unfortunately it has now come to the stage where our disproportionate market share of the basic bank account market has continued to grow significantly, and regretfully, we now need to take steps to address this."
'Action needed'
In the 12 months to the end of June, there were 35,456 bankruptcy orders in England and Wales, according to the Insolvency Service.
The Co-op said that 30% of its 330,000 basic bank account holders had gone through some sort of insolvency proceedings.
It argued that it was taking two-and-a-half times more customers in this category than its "natural market share".
Robin Taylor, the Co-op's head of banking, told the BBC News website that it had told MPs regularly that the position was unsustainable, and an industry wide agreement was required.
He said that a lot of people made bankrupt were already with a bank and should be supported by that institution. However, he wanted a system where every major bank took a share of the remainder.
This was critical because in a year's time, the new Universal Credit benefits system would require recipients to have a bank account for the benefit to be paid into, Mr Taylor said.
'Seek advice'
The British Bankers' Association, which represents the UK's major banks, said that banks faced other difficulties if they decided to take on bankrupt customers.
"Banks who accept bankrupt customers open themselves to potential legal challenges from their customer's creditors, who could have a legal claim to money passing through the account," said a BBA spokesman.
"The banks have been working with the Department for Business on this issue to ensure as many people as possible enjoy access to the banking system.
"Anyone considering entering bankruptcy should seek professional advice about the other options available to them to help them resolve their debts.
"Bankruptcy may be the last option, but it is hardly ever the only option."
In July, the Co-operative Group agreed to buy 632 branches from Lloyds Banking Group, after European regulators demanded Lloyds sell some of its branches following its partial nationalisation in 2009.
About 4.8 million Lloyds customers will be transferred to the Co-op, giving it about 7% of the current account market.
The Co-op will pay £350m upfront and up to an additional £400m based on the performance of the combined business.
Mr Taylor said the deal had no bearing on the decision about basic bank accounts as concerns about this had pre-dated talks on the purchase of branches.
Sarah Brooks, director of financial services at watchdog Consumer Focus, said nearly one million people in the UK - not just people who have been bankrupt - did not have a bank account.
"Minimum standards are needed to stop a race to the bottom on basic bank accounts, and we need to see action from the banks and government to make this happen," she said.
"Everyone needs the option of having an account which, as a minimum, lets them access their money safely and conveniently, make payments and receive their salaries and any benefits. This backward step rolls back the good work the industry has previously done to increase financial inclusion."