Boots agrees deal with China firm as it eyes expansion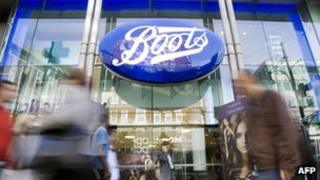 Alliance Boots, one of Europe's biggest pharmacy chains, has agreed a deal to buy a stake in a Chinese firm as it looks to expand in the country.
Boots said it will acquire a 12% stake in Nanjing Pharmaceutical Company Limited, for 560m yuan ($88m; £56m).
China, the world's second-largest economy, is home to more than 1.3 billion people, making it an attractive destination for foreign firms.
Nanjing is the fifth-biggest pharmaceutical distributor in China.
Boots, which first entered the Chinese market in 2008, said that it was aiming at a 20-30% share of the Chinese pharmaceutical distribution market.
"In 10 years, I hope we will be one of the major players in China or we will be, together with other companies, part of one of the major players in China," Stefano Pessina, executive chairman of Alliance Boots, was quoted as saying by the Reuters news agency.
Nanjing operates distribution centres in 12 cities in China and has sales of around 20bn yuan.
Once finalised, the deal will make Alliance Boots the second-largest shareholder in Nanjing.
"We believe that this strategic investment marks an important step in our long term development in Asia," said Mr Pessina.