Jobs without pay help US unemployed back into work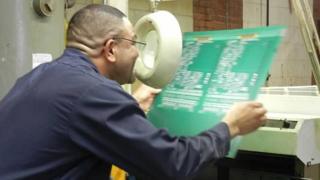 Things seemed all too familiar to Carol Nyberg when she began her new factory job earlier this year.
The smell of molten metal, the sound of the automated steel machinery, the familiarity of the faces around her.
The reason?
After being on the dole, she was back at the same company that let her go in 2008.
For Ms Nyberg, returning to the workforce at the age of 60 was like getting a new lease of life.
A scheme called Return to Work, run by the state of New Hampshire, helped Ms Nyberg get her old job back, initially as a six-week unpaid placement, which was followed by an offer of a permanent job.
"It was a great feeling, knowing I would have a job at the end of it all," she says.
Tears fill her eyes as she recalls the months of searching for openings and the relief she felt when one appeared. "It was tough," she says.
"The state of the economy means there's not a lot of jobs out there so there's not a lot of leads to follow.
"I was looking for jobs everywhere - online, my family. If they heard of an opening they'd be on the phone right away."
As Ms Nyberg escaped the army of unemployed, she left behind almost two million Americans who have been without work for two years or more.
The very search for a job itself can become all-consuming.
Although US unemployment has crept downwards in recent months, some analysts have suggested the fall is not as a result of new jobs being created, but rather people giving up their search.
So in an attempt to get the long-term unemployed back to work, New Hampshire created a programme to match workers with businesses.
Ray Boissoneau founded electronic circuit boards maker Electropac in 1976. It had manufacturing bases in China, the UK and the US, but now operates a single factory in the riverside town Manchester in New Hampshire, home to some of the world's largest textile mills.
He was among those who signed up to the scheme. "It gives a potential employee the chance to assess the company, whilst we assess whether they'd fit in," says Mr Boissoneau, as he walks the factory floor with a proud, grandfatherly air about him.
Electropac has gained from taking on new employees, but so have the workers, he insists.
"They collect unemployment benefits whilst they're with us so they've not lost anything. Instead of sitting at home they're able to come to a factory and begin skilled work."
The unemployed work for nothing while the company gives them a placement for a month-and-a-half to prove themselves.
Although there is no promise of a job at the end of the six weeks, Mr Boissoneau defends accusations that the scheme exploits the unemployed.
"It's fair because they're being trained with an opportunity for their future," he says.
"They have the chance to start a new career and earn a proper income."
At Electropac's building, impressive with hundreds of windows punctuating its red brick, Mr Boissoneau has managed to fill five full-time positions in the past six months.
Cheryl Karen worked for the company before being laid off. She too is now back on the payroll in a different part of the building.
"I was happy because I missed my job. I loved this place and I feel like I counted," she says with a smile.
"My work must have been good enough for me to come back and learn about circuit boards."
'Coming back home'
Ms Karen worked for nothing on the programme and when a vacancy arose she was first to be hired.
Almost 500 jobseekers have been through Return to Work since 2010, with 70% landing permanent positions.
The New Hampshire Employment Security Office says the initiative has been a success.
"If they can learn the job, then they can do the job," says Arlene Murphy, who runs the programme.
It is so successful, Maine and Rhode Island are thinking of setting up similar schemes.
As the American people prepare for the US presidential election on 6 November, the unemployment rate continues to hover around 8%.
Some pundits are suggesting the sluggish economic recovery is a boon to Republican challenger Mitt Romney, and an obstacle to President Barack Obama's chances of returning to the White House for another term.
Ms Nyberg prefers to think about her own return to work.
"I already liked the people," she says. "It was like coming back home again."