India inflation rate rises faster than expected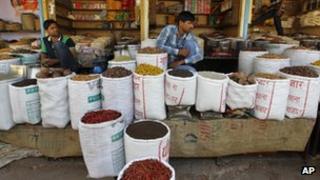 India's inflation rate rose to a higher-than-expected 7.55% in August on a year earlier, official figures show.
Higher food prices were mainly behind the rise, which comes ahead of a Reserve Bank of India meeting on Monday to decide interest rate policy.
Analysts had expected the August inflation rate to be about 6.95%.
Rahul Bajoria, regional economist at Barclays Capital, said the "high" inflation number left central bank policymakers with a "tricky call".
On Thursday, the government cut fuel subsidies, which will force up prices.
Madan Sabnavis, chief economist at Care Ratings, in Mumbai, said: "The fundamentals don't justify a rate cut at this point of time because the inflationary expectations are still quite high.
"The quantitative easing in the US is also likely to push up global commodity prices and add to inflation. I don't expect a rate cut on Monday as the Reserve Bank has repeatedly said inflation is its main goal post."
The fuel price rise was seen by some analysts as a sign that the government is prepared to tackle difficult economic reforms and the widening hole in the public accounts.
But others saw it as a move likely to spur inflation at a time when the economy has slowed and needs a boost from lower interest rates, which stand at 8%.
India's industrial output rose by just 0.1% in July from a year ago, data showed on Wednesday.