Brazil cuts growth forecast to 2% for 2012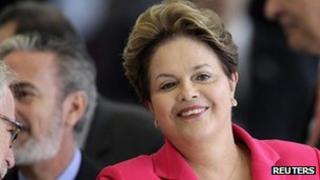 Brazil has cut its growth forecast for this year as the global downturn hits exports and rising local debt levels weigh on consumption.
The country will grow 2% this year, down from its previous forecast of 3%, Finance Minister Guido Mantega predicted.
That would be the weakest annual performance since 2009 and a sharp slowdown from growth of 7.5% in 2010.
Brazil became the world's sixth-largest economy this year, overtaking the UK.
The Latin American nation's economy grew 2.7% last year, official figures showed.
President Dilma Rousseff recently launched the first in a series of measures that could inject up to $50bn (£32bn) into the economy over the next five years.
The plan included privatising about 14,000km of railways and roads, followed by selling ports and lowering energy costs.
Expensive energy, poor infrastructure and increasing labour costs - known as "Custo Brasil" or the "Brazil Cost" - have weighed on growth, analysts say.
The stimulus measures are intended to increase the role played by private investors, who were seen to have lost ground during the government of Luiz Inacio Lula da Silva, Brazil's popular president from 2003 to 2010, and Ms Rousseff's mentor.