BT to increase phone and broadband prices in January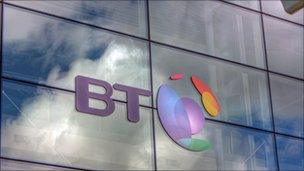 Telecoms giant BT will raise some phone and broadband prices by up to 5.9% next year, following price increases by rivals.
Price rises on 5 January will include standard line rental, call plans, standard broadband and calls to other landlines, it said.
However, prices of landline calls to mobiles will remain unchanged.
Other providers such as Sky, Virgin and TalkTalk have increased prices in the last six months.
Customers will be sent details about the proposed price changes in the coming weeks, including details of bundles aimed at reducing regular bills.
"We will be changing some prices in January, but we will then be freezing many key prices until 2014," said John Petter, of BT.
BT recently reported a rise in profits in the second quarter of the year by 8% compared to the same period a year ago, to £578m.
It said that its broadband customer base continued to grow, with the company adding 85,000 broadband customers during the quarter.
However, the company said revenues had fallen to £4.5bn in the three months to the end of June.
The group recently announced two big sports broadcasting deals.
It will have exclusive live broadcast rights to Aviva Premiership Rugby Union in a four-year deal from the 2013-14 season, worth £152m.
In June, it was announced that BT had secured the rights to broadcast live Premier League football matches for the first time, securing the rights to 38 matches a season from 2013-14 to 2015-16.
Related Internet Links
The BBC is not responsible for the content of external sites.