Bank of England head's pay and pension deal 'undecided'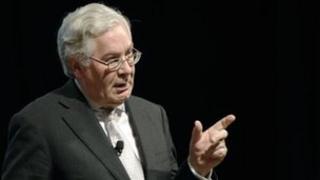 The Bank of England has begun advertising the job of its next governor, but is still "undecided" on what pay and pension it will offer.
An advert for Sir Mervyn King's replacement is published in the Economist magazine on Friday.
Sir Mervyn benefits from a final-salary pension scheme that will pay him an annual pension of just over £200,000.
The Bank is likely to offer his successor a less generous pension, so may have to pay a higher salary.
This may clash with the government's desire to keep a cap on pay in the public sector.
Sir Mervyn's basic salary - frozen since 2010 - is £305,000 a year.
A Bank spokesman confirmed to the BBC that the issue of compensation for the next governor had yet to be decided.
Sir Mervyn retires at the end of next June.
Pay
As well as voluntarily freezing his own pay since 2010, Sir Mervyn had previously turned down a substantial separate pay increase.
This was first proposed back in 2006 by outside consultants who said the governor and the two deputy governors were underpaid compared to similar staff in outside posts.
The rate suggested for Sir Mervyn six years ago - but turned down by him in 2008 - was £375,000 to £400,000 a year, although with less generous pension benefits.
So if the new recruit is offered a basic salary in line with the original recommendations, then he or she could be offered an initial salary roughly a third higher than that of Sir Mervyn.
Pension
The special pension scheme of which Sir Mervyn and his two deputies - Charlie Bean and Paul Tucker - are the only members, is particularly generous.
Known as the Court section, it lets them accrue a pension worth two-thirds of their final salary after just 20 years, twice as fast as normal.
Most final-salary schemes are designed to generate a two-thirds pension after 40 years.
The scheme is non-contributory, funded entirely by the Bank, and is worth at least 70% extra on top of salary.
Sir Mervyn, a longstanding employee of the Bank, had accrued his maximum pension under this scheme and a top-up deal by 2008, by the end of first term in office as governor.
The general final-salary scheme for Bank staff, and the special Court section, were both closed to new joiners in 2007.
Since then the Bank's policy has been to offer its senior executives membership of a new and less generous career-average scheme, also non-contributory for members, which is also offered to all of the Bank's new recruits.
Alternatively the executives can, under existing policy, accept a 30% pay rise in lieu of any Bank pension arrangements at all.
Thus, a new recruit for the Governor's post might end up with a basic salary of £400,000 plus a 30% top-up of £120,000, or £520,000 in all.
Most of the candidates for the job are likely to have spent a long time in public service and may not be concerned that the Governor's salary package is less than could be earned in a comparable private sector job.
They may be concerned if the package on offer is actually worth less than the one from which Sir Mervyn benefits.