South African miners call for general strike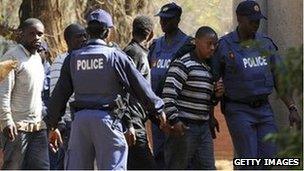 A leader of South Africa's striking platinum miners has called for a general strike to "bring mining companies to their knees".
The call came at a mass rally for the miners, who have been on strike for weeks to press for higher pay.
Mametlwe Sebei said the general strike would start in Rustenburg, the centre of platinum production, on Sunday.
The strikes have been marked by violent clashes, including the shooting of 34 miners by police.
A wildcat strike at a mine owned by the London-listed Lonmin on 16 August saw 10 people killed before the police started shooting.
Since then, mines have been closed by leading companies, including Anglo American, resulting in production suspensions and tens of thousands of miners unable to work.
At Thursday's meeting, protest leader Mametlwe Sebei told several thousand miners: "On Sunday, we are starting with a general strike here in Rustenburg."
His call echoed that of the firebrand politician Julius Malema, who called for a national strike when he addressed disgruntled soldiers in the Johannesburg area on Wednesday.
That led to the South African government placing its military on high alert, the first such move since democracy came to the country in 1994.
The government is concerned that the miners' protests are being used as a focal point for opponents of South African President Jacob Zuma.
Mr Malema, who was expelled from the ruling ANC party, is viewed as trying to resuscitate his political career and force President Zuma from office at its national conference in December.
Joseph Mathunjwa, the leader of the Association of Mineworkers and Construction Union (AMCU), has called for Mr Zuma to take a lead in resolving the situation.
Mining accounts for about 20% of South Africa's national output and the country is home to 80% of known reserves of platinum.
The price of the element, which has a wide range of industrial and medical uses, has gained nearly 20% since the police shootings at Lonmin's Marikana mine.
Shares in both Anglo American and Lonmin have been hit by the miners' actions.