EADS-BAE merger faces major hurdles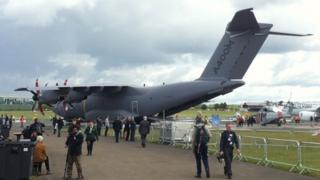 During times of economic hardship, mergers between major companies are often motivated by a desire to cut costs.
Not so the proposed merger between European aerospace firm EADS and UK defence contractor BAE Systems.
Both firms are anchored firmly in Europe's industrial landscape, where between them they employ some 220,000 people, often in highly skilled jobs.
Hence, their roles as economic contributors and drivers of technological innovation are often hailed by politicians.
Safeguarding jobs
The fact there are relatively few overlaps between the two companies should make a merger palatable for voters, and thus to politicians scrutinising the implications.
Industry analysts say rather than posing a major threat to European jobs and investment, a merger would have the potential to safeguard many jobs.
At a time when the defence industry is coming under increasing pressure, as ever more countries cut their defence budgets, the boom in commercial aviation enjoyed by EADS's dominant Airbus division could help balance the business.
As such, a combined EADS-BAE would tower over the competition as the world's largest aerospace and defence company, carefully balanced with one leg in each cyclical sector.
"A merger would allow EADS to achieve its aim of balancing civil aerospace... with non-Airbus activities," according to Citigroup analysts.
US market access
In a similar balancing act, a return to civil aviation might be an appealing prospect for BAE.
But for EADS, there is an even more persuasive reason why a tie-up could prove advantageous.
As the world's fourth largest defence firm, BAE has built up a notable presence in the US in recent years, much of it through the acquisition of smaller US defence firms, though it has also used the so-called "special relationship" between the US and the UK to full effect.
Efforts by EADS to do the same have come to little, so a deal with BAE could offer instant access to the US market for defence spending.
This is crucial because the US remains the biggest spender by far on the global arena.
In 2011, the US defence budget of $711bn stood head and shoulders above those in Europe, where between them the UK, France and Germany spent just a quarter of that.
Indeed, even if the US was to go ahead with massive cuts to its defence budget, it would merely fall back to where it was before military spending started ballooning about a decade ago, remaining the undisputed leader in terms of military spending, says Alexandra Ashbourne-Walmsley, director of defence analysts Ashbourne Strategic Consulting.
Multilateral model
There is, of course, the risk that BAE's ability to continue exploiting the "special relationship" could be hampered by a merger with EADS, Dr Ashbourne-Walmsley adds.
"The Americans greatly prefer to deal with other countries on a bilateral basis," she says. "The US State Department in particular finds it difficult to deal with multilateral entities."
The same is true for BAE's other major customer, Saudi Arabia: "The Saudis also value the close government-to-government relationship with the UK," she says.
Sensitivities about sharing military and technology secrets have a tendency to get in the way of multilateral defence deals, turning them into political battles between diverging national interests.
Investec Securities analyst Andrew Gollan says: "The protection of national interests, such as the nuclear deterrent, will prove politically highly sensitive issues."
Huge hurdles
There is a real danger the multilateral nature of a combined EADS-BAE could turn it into a slow-moving, bureaucratic dinosaur.
"With so many stakeholders with conflicting interests involved at both companies, the final outcome may not be the emergence of a pan-European aerospace and defence giant to rival Boeing within the sector," according to Fitch, the ratings agency.
Indeed, the merger itself faces huge hurdles as it would require the approval of regulators in a number of countries where EADS-BAE would operate, including the US, Saudi Arabia, the UK, France and Germany.
"Shareholder approval may also be hard to obtain because this will sometimes involve governments that are also defence customers of the two companies," according to Fitch.
The French and German governments each control 22.5% of EADS, while the UK government has a golden share in BAE Systems that allows it to veto or influence any deal that goes against the British national interest.
Uncertain outcome
Talks between all the affected parties - including both companies and unions, as well as governments and regulators - have now begun.
They will continue until 10 October, when a decision will be made about whether to progress further or pull back from the agreement.
Some industry observers fear the negotiations could be lengthy and warn investors that the outcome is far from certain.
"With the prospect of a protracted and bumpy ride to completion, we advise shareholders to cash in," says Investec's Mr Gollan.