Argos sales growth boosted by tablet computers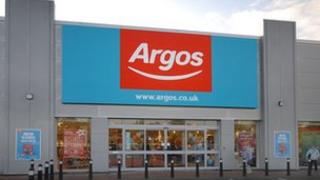 Argos has returned to sales growth, led by the popularity of tablet computers and e-book readers, owner Home Retail Group (HRG) has said.
Like-for-like sales at Argos - which strips out the impact of any new store openings - rose 1.4% in the three months to 1 September from a year ago.
This compares with a decline of 0.2% in the quarter ending 2 June.
Like-for-like sale at sister business Homebase continued to fall, but the rate of decline slowed.
Sales by that measure fell 3.7% at Homebase in the quarter to 1 September, having fallen by 8.3% in the three months to 2 June.
HRG said sales at Argos were also lifted by good growth in white goods, such as fridges and washing machines.
By contrast, it said sales of video games and consoles had fallen, as had audio equipment.
The continuing declines in sales at Homebase was put down to customers being unwilling to buy costly big ticket items, and the bad weather over the summer.
HRG chief executive Terry Duddy said that at this stage the company was sticking to its full-year profit targets, but that "as always the outcome will depend upon trading at Argos in its peak Christmas period".