South Korea announces fresh stimulus for businesses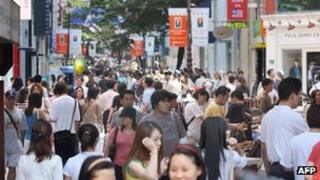 South Korea has unveiled a fresh stimulus plan, its second in four days, in an attempt to revive growth in its economy.
Its central bank will inject 1.5tn won ($1.3bn; £825m) into banks, which will use it to provide low-interest rate loans to small businesses.
On Monday, it announced a $5.2bn package, which included tax rebates, to boost domestic demand.
South Korea's growth has been hurt by slowing global demand for its exports.
Exports account for almost half of South Korea's economic output and the central bank warned the sector may remain sluggish amid economic uncertainty.
"The Committee considers the economic recovery in the US to have weakened somewhat and the sluggishness of economic activities in the euro area to have deepened," the bank said in its monetary policy statement.
"Growth has continued to slow in emerging market countries as well, due mostly to the impact of the economic slumps in advanced countries."
'Missed the timing'
Given the slowdown in global demand and weak domestic consumption, there were expectations that the central bank may also cut its interest rates.
However, in a surprise move, the bank kept it key rate unchanged at 3%.
Analysts said the bank was likely to gauge the impact of the stimulus measures before lowering borrowing costs.
"It appears the Korean economy has hit the bottom during the third quarter," said Kim Su-Man of IBK Securities.
"It may pick up in the fourth quarter if the government's latest stimulus measures take effect."
There are also hopes that the expected stimulus measures in the US and eurozone may help boost demand for Korean exports.
"It seems the Bank of Korea wanted to wait and see how the European Central Bank and the US Federal Reserve act next," said So Jae-Yong an economist at Hana Daetoo Securities.
However, he added that the bank may lower borrowing costs in the coming months, but had "missed the timing for a cut".