HBOS banker Peter Cummings fined by regulator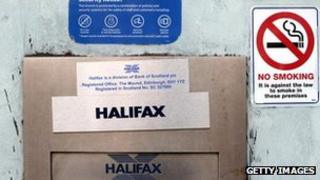 A former HBOS executive has been fined £500,000 by the UK financial regulator over his role in the bank's collapse.
Peter Cummings, the head of HBOS corporate banking from 2006 to 2008, has also been banned from working in the banking industry, the Financial Services Authority (FSA) said.
The FSA said that, following the fine, it will now publish a report into the causes of the failure of HBOS.
Mr Cummings described the decision as "Orwellian".
Lloyds TSB was pushed into taking over HBOS in 2008, following a run on its shares.
This later led to Lloyds having to be bailed out and part-nationalised by the government.
Mr Cummings said: "For the past three and a half years I have been singled out and subjected to an extraordinary Orwellian process by an organisation that acts as lawmaker, judge, jury, appeal court and executioner.
"The FSA has never had to prove its case to anyone other than itself, and sits safe in the knowledge that few individuals can afford to take it on."
'Failure'
In October 2008, as part of government plans to recapitalise banks during the peak of the financial crisis, Lloyds TSB and HBOS received £17bn of public money between them.
Lloyds, part-owned by the UK government since the crisis, has cut more than 30,000 jobs since the merger with HBOS, and its share price has fallen sharply.
"Although Mr Cummings made efforts to implement improvements between January 2006 and March 2008, he failed to take reasonable steps to assess, manage or mitigate the risks involved in the aggressive growth strategy which the Corporate Division, under his direction, was pursuing," the FSA said in its notice.
"The FSA considers that Mr Cummings' standard of conduct during the relevant period fell below that which would have been reasonable in all the circumstances.
"The aggressive growth strategy, which had a specific focus on high risk, sub-investment grade lending was pursued despite known weaknesses in the control framework, which meant that there was a failure to provide robust oversight and challenge to the business."
Lloyds, which is the biggest bank in the UK, is still 39% taxpayer-owned.
In July, it posted a half-year loss of £439m.