The cost of dying falls but funeral costs rise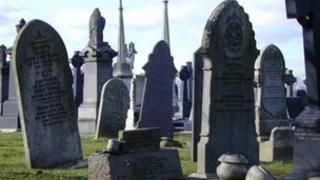 The cost of dying has fallen in the last year, but the basic price of a funeral rose for the ninth consecutive year, research has suggested.
The cost of dying includes funeral costs, as well as associated costs such as probate, headstones and flowers.
This fell by 1.9% compared with the previous 12 months, to £7,114, according to insurer Sun Life Direct.
However, the specific cost of a basic funeral was up by 6.2% in a year to £3,284, driven by burial costs.
Cremation costs and funeral directors' bills also increased, the report said, although price competition and consumer awareness helped keep down the legal bills for estate administration.
The report claimed that the government's support system to help the most vulnerable with funeral costs, called the Social Fund Funeral Payment Scheme, was facing mounting demands amid tough economic times.
While the cost of dying has fallen, the cost of living - measured by inflation - has increased.
Prices were 2.6% higher in July compared with a year earlier, according to the Consumer Prices Index (CPI) calculated by the Office for National Statistics (ONS). The Retail Prices Index (RPI) measure was 3.2%.