London's most expensive house yet, at £300m?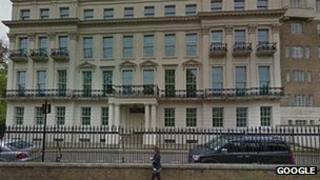 A huge mansion in central London is reportedly for sale for the record sum of £300m.
According to a report in the Financial Times, that would make it, by a long way, the most expensive home yet sold in the UK.
The property, with 45 bedrooms spread over seven storeys, is in Knightsbridge and overlooks the south side of Hyde Park.
With the average home in London costing £368,000 according to the Land Registry, the giant property at 2-8A Rutland Gate is 815 times more expensive than the London average.
"This is probably the largest single family home in London, apart from Buckingham Palace," said Gary Hersham of Beauchamp Estates.
"If it were to be sold one could easily identify the type of buyer who would be interested - very wealthy individuals."
'Off market' sales
Even though Kensington & Chelsea is far and away London's most expensive borough, the apparent asking price of the mansion still massively outstrips the average home there, which stands at a mere £1,089,000.
When will we be able to gawp at photos in the adverts at the back of magazines like Country Life, showing the rooms laden with gold leaf, the big swimming pool, numerous bullet-proof windows and underground car park?
Actually, we can't.
The house is so rarefied and expensive that it is probably being sold privately, not publicly, explains property expert Henry Pryor.
He points out that with a reported asking price of £300m, there will only be a handful of potential buyers.
"The more individual a property, the harder it is to market and price," he said.
"So for properties above £5m, about half are sold 'off market' with selling and buying agents doing deals between each other."
Privacy, not publicity
Surely this goes against the grain, the idea that the best price will only come from a public sale by an estate agent?
Not necessarily so, said Mr Pryor.
"The internet is no longer your friend and can be a practical disadvantage when it comes to the sale of more expensive and individual properties," he argued.
"If a property does not sell, when it is relaunched potential buyers can see its history and ask 'what is wrong with it?' even though there is nothing wrong with it."
Richard Cutt at Knight Frank specialises in handling such expensive sales.
He explained that for the "global wealthy", privacy is one of the most important factors.
"The discretion this process affords the vendor is valuable - the neighbours and others don't know he is selling," Mr Cutt said.
"Security may be vital, and pictures and floor plans can be kept out of the public domain," he added.
So how will anyone know this property is in fact for sale?
"For something so large and expensive, we can identify the likely purchasers - we would research our contacts and produce a list of buyers known to us in this sector," Mr Cutt explained.
Prices up 50%
The property market in central London has been living in its own bubble for many years, and that has expanded rapidly in the past few years.
House sales there are dominated by very rich foreigners, many of whom have been moving their money from economically troubled areas of the eurozone to London, looking for a safe haven investment.
Knight Frank calculates that what it calls "prime" central London property prices have gone up by 50% since March 2009.
The main buyers recently have been from Russia, India, France and Italy.
One man who may be intrigued at such an extraordinarily expensive home being sold, even on the quiet, is Andreas Panayiotou.
The multi-millionaire property developer is selling his own mansion in the traditional "Millionaires' Row" of The Bishops Avenue, just north of Hampstead in London, for £100m.
It only boasts 14 bedrooms, but it does have seven garages, a tennis court, and both an indoor and outdoor swimming pool.
Fancy a look?
The house, Heath Hall, may be for sale on the open market, but the sale brochure from estate agents Glentree International will cost you £2,000.
But you can gawp at it online here.