Is slowing growth in China a catalyst for reform?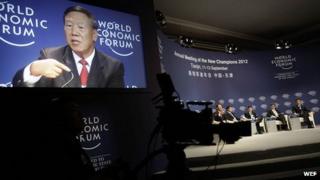 If you are a prominent Chinese economist or business leader at this year's Annual Meeting of the New Champions, in Tianjin, China, you had better have your wits about you.
The moment you have finished sharing your views on a panel discussion, a wave of Chinese journalists waiting in the audience make a lunge for you.
They seem hungry for insights into how things work in the upper echelons of power and where things are headed.
After all, it is not every day that they are feet away from those key influencers and thinkers brought together at this World Economic Forum event - Summer Davos, as it has come to be known, being a regional off-shoot of the annual conference in Switzerland - so they grab the opportunity.
For their part, grabbing the opportunity is what those senior figures are saying China should be doing in the area of financial reform.
'Opening up'
In fact, one government official said the slow-down in growth could be a catalyst for the pace of reforms to pick up.
"If you look back at the last 30 years in China, I think there is a rule - whenever the economy slows down a little bit, opening up speeds up," said Fang Xinghai, director general at the Shanghai Municipal Government Financial Services Office, referring to a move towards less government regulation in the economy and more private business participation.
China's economy has seen its rate of growth lose some pace this year, down from the rapid growth of the past decade of above 10%, to a target of 7.5% in 2012.
But Mr Fang argues that when the pace of growth slows, new ways of boosting profits are sought and that could mean removing stringent controls.
He gives the example of the Shanghai stock market, which has been under pressure this year, so rules were relaxed on foreign investors.
"A lot more international institutional investors are being allowed to invest in this market."
And others agree that if a further slow-down is to be avoided, certain changes to the banking and financial sector need to be implemented immediately.
Market-based
Dai Xianglong, former president of the People's Bank of China, said: "Financial reform should focus on the internationalisation of [China's currency] the renminbi," making it globally convertible.
Mr Fang argued that the role of China's state-owned enterprises needed to be re-examined to increase competition.
"We perhaps have too many state-owned companies in the economy," he said.
"The opportunity for more privatisation in the state-owned sectors would release a lot of productivity."
Others argued for less government control, for example in the equity market, saying it was over-regulated.
Overall, there were voices calling for a more market-based system, especially for interest rates.
Saver nation
China's central bank has kept interest rates very low, which benefits borrowers of money - mainly state-owned companies, local governments and real estate developers - but is not good for the depositors, the famously high-saving Chinese people.
While liberalising rates would benefit them, giving them higher returns, those that currently benefit from low interest rates have opposed the move.
So while there may be consensus in the discussions at the Summer Davos, it hasn't translated into action, with some saying the political will is lacking to move forward quickly.
"We cannot wait 10,000 years," said Mr Dai. "We have to seize the time."
Political push
Mr Fang says the slowing growth could provide the environment needed for the different factions in government to agree, especially in the increasingly diversified political landscape.
"This is no longer a one-man kind of system, you need a lot of consensus for decision making.
"External pressure is one way to generate consensus, and slowing down generates external pressure, so that works to form a consensus."
With a once-in-a-decade leadership change on the horizon, Mr Fang and others are hoping that those making decisions at the top will reach that consensus.
"We would like to have a new leadership familiar with a market economy and the rest of the world, so they can wage market-oriented reform a lot more quickly."
On the wider reform agenda in China, Min Zhu, deputy managing director at the International Monetary Fund, said: "It is a daunting task, but we always encourage the government to move faster."
And not doing that could prove detrimental to growth and stability in the financial sector.
When asked what he thought the biggest risk to the Chinese financial system was, Li Daokui, director at the Centre for China in the World Economy, said it was that China did not seize the opportunity to reform.