Mortgage deposits drop below 20% for first-time buyers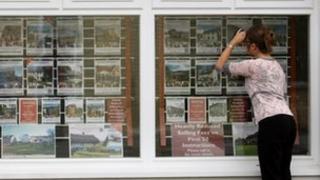 Mortgage deposit levels for first-time buyers have fallen below 20% for the first time in more than three years.
The Council of Mortgage Lenders (CML) said the average first-time deposit fell in July to 19%, the lowest level since November 2008.
Meanwhile, mortgage lending to all home buyers picked up in July, albeit at still subdued levels.
The number of mortgages arranged by lenders rose by 5% from June to 49,500, which was also 5% up on a year ago.
Despite this increase, the level of borrowing was still half the level recorded in the years before the banking crisis started in 2007.
CML director general Paul Smee said: "July's figures show a gradual improvement in the market, with lending approaching the sort of levels we saw at the end of the stamp duty concession.
"While overall market conditions remain tight, new initiatives such as Funding for Lending and NewBuy have the potential to help lending to continue to ease gradually."
Less rationing
The slight easing in mortgage rationing in July coincided with the Bank of England announcing its intention to offer cheaper funds to banks and building societies as part of its wider Funding for Lending scheme.
This was formally launched at the start of August and it will be some time before it becomes clear if this has encouraged lenders to offer mortgages on easier terms, or boosted lending by banks to other businesses.
Mark Harris of mortgage brokers SPF Private Clients suggested that some effect was likely to filter through.
"We hope the Funding for Lending scheme will start to make a difference soon," he said.
"Lenders have told us that they are encouraged by it, seeing it as an opportunity to borrow from the Bank of England at generous rates.
"That [19%] is a hefty deposit for most people to find, and only those who have assistance from their parents are likely to be able to raise it," he added.