Huawei Technologies: Controversial success story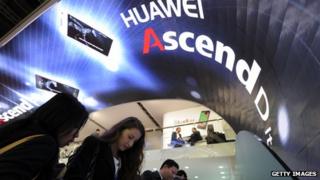 Huawei ranks as one of the world's biggest companies most people in the West have never heard of.
Yet millions of people in Europe and the US rely on the company's equipment every day. And the number of users is growing rapidly, particularly so in the UK where the firm has just announced a $2.1bn (£1.3bn) investment.
You might not see the Chinese telecommunications giant's logo plastered over handsets, but its networks underpin the services provided by many of the world's best-known mobile phone service providers.
In the UK alone, for example, its customers include BT, Everything Everywhere, O2, Orange, TalkTalk, Virgin Media and Sky.
Rapid expansion
Huawei Technologies was set up in 1987 and has grown rapidly to become China's biggest maker of equipment for the telecommunications industry.
It began life servicing rural China and within 10 years was generating revenues of about $250m. In 1999, the company established its first research and development (R&D) centre outside China, in Bangalore, India.
A year later it set up in Sweden and a year after that in the US. By 2002, sales outside China had hit $500m.
By the middle of the last decade, overseas contract orders exceeded domestic sales, and the company's position as a major player in the international telecoms market was cemented.
Last year, revenues were $32bn, helped by the shipment of 20 million smartphones. Today, the company employs more than 140,000 people and sales outstrip those of Ericsson.
Accusations
But it has not all been plain sailing for the company started by Ren Zhengfei, a former member of the People's Liberation Army, reportedly with just $5,000.
The company has been dogged by accusations of underhand business practices, all of which Huawei strongly denies.
Critics argue that the company's policy of undercutting competitors on contract bids has only been possible due to government subsidies.
They also accuse the firm of stealing intellectual property on a massive scale. In response, Huawei points to its huge expenditure on R&D and its own vast library of patents.
More damaging have been a raft of allegations of being a conduit for the Chinese state to gather information on foreign states and companies.
Many of these claims have come from the US, where last year a Congressional Committee said the firm could pose a security risk.
In February 2011, a US security panel rejected Huawei's purchase of American computer company 3Leaf systems, just one of a number times the company has been denied approval to take over a US firm.
Huawei has also come under pressure in the US for its dealings with Iran.
But it's not just in the US where the company has encountered opposition.
Earlier this year, Huawei was barred from bidding for work on Australia's National Broadband Network.
Security concerns was the reason given for denying the company a role in the $38bn project.
'Welcome'
But Huawei's supporters dismiss such accusations as anti-Chinese paranoia, and many countries have happily embraced the firm.
It has won significant contracts in Canada and New Zealand, while UK Prime Minister David Cameron welcomed news of the company's $2.1bn investment.
Huawei operates closely with the UK's intelligence agency GCHQ, and even employs the UK government's former chief information officer as its global cyber-security officer.
But until the company becomes more transparent, or lists on an international stock exchange, suspicions will no doubt remain.