Bank of England governor job to be advertised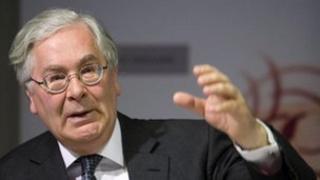 The job of the next governor of the Bank of England will be advertised for the first time later this week, the Chancellor of the Exchequer has said.
George Osborne told Parliament that Sir Mervyn King's successor will be announced by the end of the year following a "fair and open" application process.
The job will be advertised in the press on Friday, and the closing date for applications is 8 October.
Sir Mervyn will retire next June.
The advert will run in the Economist magazine on Friday, and then be published on the Public Appointments website.
Job ad
In the advert, the Treasury will say: "The new governor will lead the Bank through major reforms to the regulatory system, including the transfer of new responsibilities that will see the Bank take the lead in safeguarding the stability of the UK financial system."
To qualify for the job, a candidate must "have experience of working in, or with, a central bank or similar institution; or will have worked at the most senior level in a major bank or other financial institution".
Following the advertisement of the role, an interview panel chaired by Sir Nicholas Macpherson, the permanent secretary to the Treasury, will interview the shortlisted candidates.
"The Treasury Select Committee will be invited to hold a pre-commencement hearing once the successful candidate is announced," the Treasury said.
"This will be the first time a newly-appointed governor will be subject to such a hearing."
The new governor will start on 1 July, 2013, and - as per changes likely to be made law in the Financial Services Bill - will be appointed for a single eight-year term.
Among the likely contenders is Paul Tucker, the current deputy governor. Lord Turner, the chairman of the Financial Services Authority, and former Cabinet Secretary Sir Gus O'Donnell are also thought to be favourites for the job.
Bank of Canada head Mark Carney was thought to be in contention, but ruled himself out in a BBC interview.