How banknotes feature a new sign of the financial times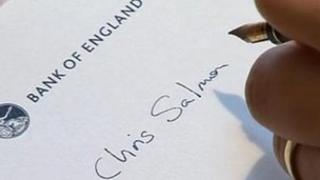 If you have a piece of paper in your pocket with Chris Salmon's signature on it, then take care - it is likely to be a £50 note.
The signature of the Bank of England's latest chief cashier has been on the large denomination note since November 2011.
Now £5, £10 and £20 banknotes are entering circulation bearing Mr Salmon's signature, instead of that of his predecessor Andrew Bailey.
Initially, they are available from the Bank of England's counter at Threadneedle Street in London. Consumers might then spot them emerging from cash machines, and soon afterwards from bank counters.
Mr Salmon is the latest in a long line of chief cashiers to have his name on the promissory note but, unlike the early incumbents of the role, he does not have to sign them all by hand.
New-look £50
The Bank of England issues about a billion banknotes each year, and withdraws almost as many from circulation.
As this process continues, notes bearing the signatures of Mr Salmon and Mr Bailey - who are both left-handers - will circulate interchangeably. They have the same legal tender status, and the £5, £10 and £20 notes will continue to have the same design.
The £50 note, however, was changed to a new design featuring Matthew Boulton and James Watt - and the signature of Mr Salmon - in November.
Boulton and Watt were most celebrated for bringing the steam engine into the textile manufacturing process.
In 1788, Boulton set up a mint in Birmingham, powered by the pair's steam engine, which manufactured coins difficult to counterfeit.
'Birth and death'
Mr Salmon's duties include the smooth introduction, circulation and withdrawal of all Bank of England banknotes.
"In short, I am responsible for the birth and death of our banknotes," he says.
Already some of these are worth considerably more than their face value.
Some of the new £50 notes with the lowest serial numbers will go under the hammer on 26 September at a charity event by auctioneers Spink.
Top billing is a £50 Boulton and Watt note, with the serial number AA01 000013, which is expected to fetch between £300 and £400.
The proceeds will go to the British Association for Adoption and Fostering, and the Kids Company.
"Both charities are focused on providing care and support for children in the UK and offering them a better start on which to build their future," says the Bank's governor Sir Mervyn King, in the auction guide.
"I hope that your collections and the charities will benefit greatly from the event."
The banknote with serial number AA01 000001, as with any first issue note, goes to the Queen, with the second presented to the Duke of Edinburgh.
History of money
Of course, these "Salmon notes", the first to use computer to printing plate technology, are very different from the first paper currency.
The new process allows workers to use printing plates produced by direct laser engraving from a computer, rather than via film exposure like a traditional photograph.
About 650 years ago, the Ming Dynasty was the first in China to totally replace coins with banknotes. The first was issued in 1375, grandly named the Great Ming Circulating Treasure Note. It was worth one string of 1,000 coins, and counterfeiting was punishable by death.
But too many were issued, leading to hyper-inflation.
This inauspicious start, and the history of other forms of finance, is explained at the British Museum's new money gallery.
It describes how local banks in the the UK in the 19th Century used designs, engraved on a metal plate, to prevent forgeries.
For example, one had an image of Knaresborough in North Yorkshire printed on it - but the serial numbers, date and signature were all handwritten.
Among the most recent banknotes are those issued in South Sudan, when it created a new currency shortly after being recognised as an independent state by the United Nations in 2011.
These notes carry the signatures of the governor of the Bank of South Sudan and the minister of finance.
Star names
In 44BC, Julius Caesar was the first living ruler to be pictured on a Roman coin, not that it saved him from assassination shortly afterwards.
Since then, coins have been used to date archaeological finds, using the picture of the king found on them.
Banknotes are also, in their way, an object of their age. Some commemorative banknotes have appeared in Scotland and Northern Ireland featuring sporting stars.
Three times Open Golf Championship winner Jack Nicklaus made it onto a £5 note. Football great George Best also appeared on a £5 note and it proved so popular that the limited edition of one million sold out in 10 days.
Some of the latest public suggestions for faces to appear on Bank of England notes have been footballer David Beckham and rugby union World Cup winner Jonny Wilkinson.
While they might be more recognisable names than Chris Salmon, it is the chief cashier whose appearance on the banknote makes it worth more than than paper on which it is printed.