Putin signs decree 'to protect' Gazprom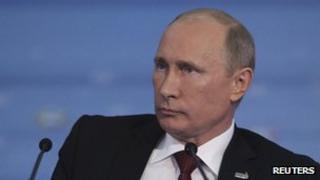 Russian President Vladimir Putin has signed a decree forbidding state-controlled firms from giving information to foreign authorities without permission from Moscow.
State firms will also need permission to change the pricing of any contracts with overseas entities.
The move comes just days after the European Commission said it would investigate energy giant Gazprom.
The EC said it was concerned Gazprom "may be abusing its dominant position".
The text of the decree, distributed by the Kremlin, said: "The decree establishes the obligation of a federal executive body to refuse permission to [participate in foreign investigations] if they are capable of damaging the economic interests of the Russian Federation."
The commission said it would look at whether the firm restricts the free flow of gas across member states, prevents diversification of supply, and prices gas unfairly.
The commission said that, if established, Gazprom's practices "may constitute a restriction of competition and lead to higher prices and deterioration in security of supply.
Such behaviour would ultimately harm EU consumers, it said.
Russia provides 25% of Europe's gas imports, and many countries rely almost entirely on the country for their imported gas.