Andy Murray's earnings set to soar after US Open win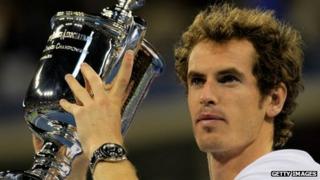 Andy Murray has finally got the monkey off his back and won his maiden Grand Slam.
The relief after beating Novak Djokovic in the final of the US Open was evident. Murray dropped to his knees, covered his face in disbelief, received a warm embrace and congratulations from Djokovic and drank in the applause of the New York crowd.
But his mind soon turned to more practical matters.
As the court was being prepared around him for the presentation ceremony, Murray could be seen saying, "I don't have it, I don't have it."
The "it" that he was referring to was his watch. Not a present from a loved one with much sentimental value, but a $2,000 (£1,250) designer watch, provided courtesy of his sponsor Rado.
The watch is actually worth much more to Murray, as part of a multi-million dollar deal with the Swiss watch maker, so it was probably to the relief of both player and sponsor that he found it in time to receive his silverware.
'Triple his earnings'
Murray already has lucrative contracts with Adidas, Royal Bank of Scotland and Jaguar.
He is estimated to have earned $12m (£7.5m) in the last 12 months, according to Forbes Magazine. Though this was well behind world number one and Wimbledon champion Roger Federer, who earned an estimated $54.3m, that gap is set to close.
In addition to the $1.9m prize money Murray picked up, now that he has joined the Grand Slam club, and has truly earned his place in the "Big Four" alongside Federer, Rafael Nadal and Djokovic, he can expect more sponsorship offers to come flooding in.
"Andy Murray could realistically triple his off-court earnings from sponsorship, advertising and endorsements to reach around £20m in the next 12 months," says Nigel Currie, director of the sports marketing agency Brand Rapport.
"Tennis and golf are two of the few genuinely global sports that reach every country and as one of the top four players in tennis he has a huge global profile.
"Once you're a Grand Slam winner you're in a unique group, and it's that uniqueness that becomes highly marketable."
He adds that Murray and golf star Rory McIlroy will now be "on the same par" in terms of earning power.
And if he can win more Grand Slams then "Brand Murray" will only get bigger.
Possible lull?
But winning one US Open does not immediately open the door to multiple Grand Slam successes. Just ask the recently retired Andy Roddick, who failed to add to his solitary US Open title won in 2003, or Juan Martin Del Potro, the 2009 champion at Flushing Meadows who has struggled with injuries ever since.
Murray's former coach Miles Maclagan believes it can go one of two ways.
"Either he'll absolutely fly for a while and win everything in sight or it wouldn't surprise me to see a bit of a lull," he says.
"You see it in a lot of sports, possibly with McIlroy as well, you've reached a lifetime goal, something you've strived for your whole life and you've now got it.
"And it takes a little bit of time to think, 'all right I've got to set some new goals, readjust myself and build up some determination to that'."
Even if Murray does take some time to readjust, now that he has ended Britain's 76-year wait for a male Grand Slam champion, there will be a huge amount of pressure taken off his shoulders.
And the nation, still on a sporting high from the Olympics - which also saw Murray win a gold medal - and the Paralympic Games, will be hoping that now he has broken his duck and got one major title, more will follow.
'Raw emotion'
With the Olympic medal and the US Open now under his belt, his profile will fly high internationally, especially in the US, according to Rachel Barnes, deputy editor of Marketing magazine.
"He may have been a top four player for some time, but without that title, he's not a 'name' in the US, beyond tennis fans. The same goes for the lucrative Asian market," she says.
Murray's defeat of Federer in the Olympic final was all the more impressive, given that it came just four weeks after his loss to the same opponent on the same court in the final of Wimbledon, after which he broke down in tears.
Ms Barnes says that that tearful defeat served to boost Murray's profile and popularity. It showed the world that Murray, so often dogged by the label "dour Scot", has an intense passion for his sport.
"The fact that he doesn't seek the limelight or act up to cameras will, in many ways, make him more bankable from a sponsorship perspective. He's all about credibility and raw emotion," she says.
"Those two attributes are gold dust from a sponsorship perspective. They are everything that almost every brand wants and needs to win over their target market."