Asian economies seek food security to boost growth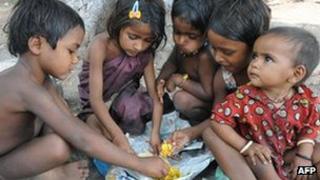 Where the next meal will come from is not a worry for the participants in the Summer Davos in Tianjin, China, where delicious fare is on offer.
But while the fridges never run empty here, one of the issues on delegates' minds is the issue of creating a food-secure future for those outside these walls.
At a workshop session, where key players met to try to find solutions to ensure sustainable food supply to the world's growing population, one message was the need to increase the productivity of small farmers.
Financing smallholder farmers is between two and five times more profitable than investing in other types of farming, according to the World Economic Forum.
Participants in the discussion suggested ways of doing this, including providing financing, insurance, capital and technology.
Productivity boost
In countries such as Indonesia, the aim is to increase the productivity of these farmers while keeping them sustainable.
The chief executive of Sinar Mas Agribusiness and Food, one of the biggest conglomerates in Indonesia, gave the example of the palm oil crop, which is used in things like bread, biscuits and crisps.
Franky Oesman Widjaja says that currently the yield for small farmers is about two and a half to three tonnes per hectare, whereas the industry standard is to produce about double that.
"Imagine if we can double their productivity," he says, adding that it will lead to prosperity for them as well as yield increase that means no new land needs to be cultivated, preserving natural resources.
"This is only one commodity. We should be able to duplicate that for rice or any strategic commodity for Indonesian needs and also for food security issues for other countries," he says.
The will to invest in farmers and increase yields comes at a time when low yields have resulted in higher prices, renewing fears around the world of hunger and potential food shortages.
Food crisis
A drought in the US and production difficulties in Russia, among other factors, have driven the price rises in recent months.
The Food and Agriculture Organization (FAO) says cereal prices surged 17%, while prices for sugar leapt 12% to new highs in July compared with the previous month.
Untimely rains in Brazil and delayed monsoons in India also contributed to the rise.
It has brought back memories of 2007-2008 when the the world saw a food crisis. A steep rise in food prices meant that some of the poorest people in the world, who spend most of their income on food, could not afford basic staples.
There were mass protests in some African and Asian countries.
In September this year, three Rome-based UN agencies, the FAO, the International Fund for Agriculture Development and the World Food Programme, issued a joint statement warning of this renewed concern.
Farmer benefit
But the crisis was also a reminder of how smallholder farmers can benefit from higher food prices and become part of the solutions if long-term investment is directed towards them.
"It's a great time for farmers when prices go up," says Jaidev R Shroff, chief executive of United Phosphorus in India, after the workshop in Tianjin.
"People are willing to invest money, invest in infrastructure, technology and support post-harvest care in order to prevent wastage."
He also points out that the recent crises have had an effect of jolting governments and other stakeholders into action.
"You need these shocks to get people to wake up, otherwise they think food comes from the supermarket. They forget it comes from a farm and there's a farmer there."
Trade protection
While the attention on boosting productivity may be a good thing, high food prices are definitely not beneficial for the poor. As the possibility of a third potential crisis in five years looms, institutional players are trying to avoid doing things that may push prices over the edge.
When prices are high, major producer countries start taking steps to protect their own supplies, thereby depriving countries that are dependent on them.
The World Bank and the United Nations have come out to warn against these trade protectionist measures.
Their sentiment was echoed in Tianjin by Shenggen Fan, director general of the International Food Policy Research Institute based in the US.
"We need to make sure global trade remains open. Don't use your trade export restrictions to starve your own neighbour."
He says these policies may seem beneficial in the short-term, but actually exacerbate the situation in a global food crisis.