Burberry shares fall 19% after profit warning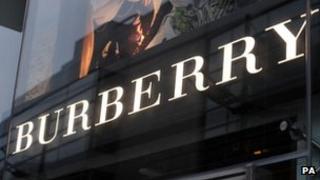 Shares in fashion house Burberry have slumped 19% after the company issued a surprise profit warning.
The UK group said its full-year profits would now be at the lower end of market expectations due to weak sales.
Burberry said like-for-like sales in the 10 weeks to 8 September were unchanged from a year earlier, and that they had fallen since then.
As a result, it said its annual profits would be "around the lower end of market expectations".
'Not immune'
Burberry chief executive Angela Ahrendts said: "As we stated in July, the external environment is becoming more challenging.
"In this context, second quarter retail sales growth has slowed against historically high comparatives."
A Burberry spokeswoman added that the weak sales had been seen around the world, and were not limited to any specific global region or regions.
Retail analyst Bethany Hocking of Investec Securities said Burberry's trading statement implied "a significant slowdown and Burberry is not immune from wider macro-economic turbulence".
However, she also said that she remained of the view that Burberry would continue to outperform the wider retail sector over the longer term.
Fellow retail analyst Jaana Jatyri, of Trendstop, added: "The global economic crisis is dragging on and the longer it drags on the less confident even wealthier individuals become.
"Unfortunately, people lacking confidence do not shop at Burberry."