Cable confirms government plans for a business bank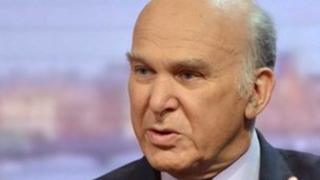 The government is moving ahead with plans for a government-backed "business bank" to boost lending to UK companies.
The business secretary, Vince Cable, said he hoped such a bank would "shake up the market" and help boost overall lending to firms.
Also on Tuesday, a report by MPs criticised one of the government's existing business support schemes.
The Public Accounts Committee called the Regional Growth Fund "scandalous".
The committee said the £1.4bn scheme to help boost the private sector economies of struggling English regions had so far only seen £60m of funds reach businesses.
Downing Street later defended the Regional Growth Fund, with a spokesman saying that more than half of the companies who had applied for funds were now able to access the money.
Details of what form the business bank will take have yet to be revealed. Nor have any details about what firms it will aim to lend to, or the length in years of any loan agreements.
Mr Cable suggested in his speech that the future business bank could work with commercial banks such as the UK's Co-Op, and the British operation of Swedish lender Handelsbanken.
At the same time, there has been some press speculation that the business bank may, ultimately, simply be an amalgamation of the current range of government-backed financial support schemes for companies, such as Funding for Lending, Enterprise Capital Funds and the Enterprise Finance Guarantee Scheme.
'Growth plan'
Mr Cable also used his speech to say the government is refocusing its industrial policy on supporting key sectors of the economy, such as aerospace, the car industry and science.
Shadow chancellor Ed Balls, at the TUC annual conference in Brighton, told the BBC: "The economy has been choked off through lack of demand. And there's nothing in Vince Cable's announcement that will make any difference."
Later, in a speech to delegates, Mr Balls accused the government of damaging the UK economy through its focus on deficit reduction.
He added that there needed to be a "change of course, and a plan for jobs and growth".