Betfair revenues rise as mobile phone gambling soars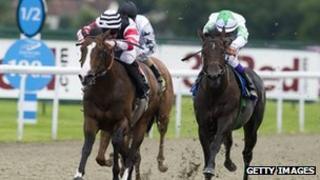 The Euro 2012 football championships helped Betfair post a jump in sales, with soaring numbers of people using mobile phones to place bets.
The online gaming group saw revenues up 13% to £91.6m in the three months to 31 July. UK growth was up 23%.
The number of bets using mobile phones rose 114%, while revenues generated were up 98%, a trading update revealed.
But Betfair said that reduced interest in other sports during the Olympics meant slower revenue growth in August.
The company also said that there had been a slower start to the football season.
During the three months to the end of July, revenues from betting on sport rose 21% to 72.3m, with the Euro championships the main driver.
"The UK, our largest market, was our strongest performing region, driven by the continued success of the 'Don't Settle for Less' advertising campaign and a great summer of sport," said Betfair finance director Stephen Morana.
However, revenues generated in the games and poker divisions fell 7% and 4% respectively, hit by regulatory changes in Italy, Cyprus and Spain.
Betfair also said it remained concerned about tax changes in Germany "and we are in discussions with relevant authorities".
The number of bets using mobile phones increased by 114% to 15.8 million, with revenue up 98% to £8.2m during the quarter.