Philips Electronics cuts another 2,200 jobs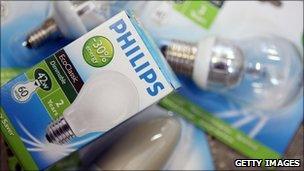 Philips Electronics has said it will shed another 2,200 jobs as it looks to cut additional costs from the business.
The Dutch group had already announced an 800m-euro ($1bn; £640m) cost-cutting programme, which has now been increased to 1.1bn euros.
The cuts are being made in light of tough economic conditions and high pension costs, the company said.
Last year, Philips cut thousands of jobs as new chief executive Frans van Houten looked to overhaul the business.
The company made a loss of £1.3bn euros last year, but has recorded two consecutive quarters of profit since.
"The company has identified additional opportunities, among others in the healthcare and lighting sectors, to further decrease inefficiency and complexity," Philips said in a statement.
It added that the cuts would be completed by 2014.
Philips said business had slowed noticeably in both China and Europe.
"The identified additional overhead cost reduction measures will help us mitigate the effects of macro-economic headwinds and changes in pension-cost accounting," said Mr van Houten.
Philips currently employs about 116,000 people.
Related Internet Links
The BBC is not responsible for the content of external sites.