New Barclays boss pledges reforms to rebuild reputation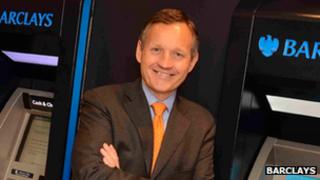 The new boss of Barclays, Antony Jenkins, has said that he will be quick and bold in making reforms at the bank.
Mr Jenkins is faced with rebuilding the bank's reputation after a series of scandals, including Libor interest rate-fixing.
He said the bank will move to stop activities that have hurt its reputation in the past.
However, he said there would be no break up of operations by selling off the bank's investment arm.
Investment banking has been criticised by many politicians and regulators for encouraging the kind of risk taking that led to the financial crisis.
"I absolutely believe that a premier investment banking franchise will be a part of it (the bank)," Mr Jenkins told investors on a conference call.
The review is likely to lead to the curtailing of Barclays' controversial tax planning operations.
The withdrawal from selling derivatives to consumers and small businesses is also on the cards, an activity which the UK's Financial Services Authority (FSA) has been looking into.
Difficult few months
In July, Barclays was fined £290m ($450m) by the US and UK regulators for attempting to manipulate Libor rates.
The subsequent investigation into the rigging of Libor by the FSA led to the resignation of Mr Jenkins' predecessor, Bob Diamond.
Regulators both in the UK and the US raised concerns about the culture at Barclays' under Mr Diamond's leadership.
In August, the Serious Fraud Office started an investigation into payments between Barclays' bank and Qatar Holding in 2008 when the bank was raising money in the Middle East during the banking crisis.
Mr Jenkins described the last few months as "difficult ones for Barclays".
"It's clear we have made some serious mistakes in the last few years and failed to keep pace with our stakeholders' expectations. But we have a tremendous opportunity to change," he said.
Mr Jenkins refused to be drawn on details of his plans, but said that he would elaborate early next year.