Spain euro crisis: Rajoy rejects bailout conditions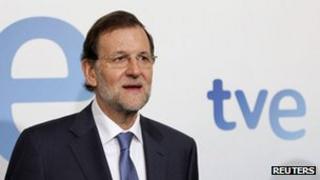 Spain's Prime Minister Mariano Rajoy has said he will not accept outside conditions over a possible bailout.
Mr Rajoy made the pledge in his first television interview since taking office. But he said no decision to request a bailout had been taken.
Last week, the president of the European Central Bank (ECB) unveiled plans to buy bonds from indebted countries - under bailout conditions.
Mario Draghi said the ECB would provide a "fully effective backstop".
The aim of the programme was to cut the borrowing costs of debt-burdened eurozone members by buying their bonds.
The Spanish government's implied borrowing costs fell sharply after the announcement.
Pensioners reassured
"I am absolutely convinced that everyone will be reasonable but I insist that we haven't taken a decision," Mr Rajoy told Spanish state television.
"I will look at the conditions. I would not like, and I could not accept, being told which were the concrete policies where we had to cut," the prime minister added.
And he promised that pensioners would not be affected by any decisions.
Under Mr Draghi's plan, the ECB would agree to buy a potentially unlimited amount of bonds of debt-stricken eurozone members on the condition that these countries made a formal request for bailout funds and stuck to the terms of any deal.
Mr Draghi said the ECB would engage in outright monetary transactions, or OMTs, to address "severe distortions" in government bond markets based on "unfounded fears".
OMTs will be carried out only in conjunction with European Financial Stability Facility or European Stability Mechanism programmes, he said.
In other words, countries will still have to request a bailout before the OMTs are triggered.
The maturities of the bonds being purchased would be between one and three years and there would be no limits on the size of bond purchases, he added.
The ECB will ask the International Monetary Fund to help it monitor country compliance with its conditions.