Asia expected to make up for the Western growth void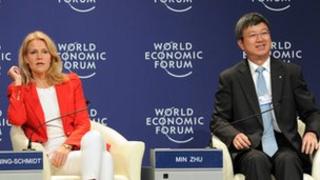 As the World Economic Forum's Annual Meeting of the New Champions begins in Tianjin, economic data shows yet more signs of a slow-down in China, so will the Asian giant continue to drive global growth?
The sprawling northern port city of Tianjin is the face of China that it wants to show the world.
A hi-tech manufacturing centre and gateway to northern China, it boasts a presence from more than half of the Fortune 500 companies, including Toyota and Samsung.
Its strategic location and economic policies have been hugely successful at attracting foreign direct investment, mainly from companies in Korea, Japan and the USA.
It is the kind of investment China wants - factories and plants making higher value products, and there are more signing on all the time, such as Volkswagon, which recently announced plans to build gear-boxes here.
A test-bed for financial reforms and free-market policies, Tianjin is an experiment in China's future and a model that could be replicated elsewhere.
"Tianjin is the vanguard for new measures to push forward economic reforms and opening up [of the economy]," says Liu Youfa, vice president of the China Institute of International Studies in Beijing.
The municipality is one of four controlled directly by the central government, and its development has been planned carefully as a key priority.
'Summer Davos'
This window into the future of China is what participants of the Annual Meeting of the New Champions will be hoping to see.
More than 2,000 academics, policymakers and business leaders are attending the meeting, organised by the World Economic Forum in collaboration with the Chinese government, under the theme: Creating the future economy.
Summer Davos, as it has come to be known, being a regional off-shoot of the annual conference in Switzerland, was first held in 2006.
The challenges being addressed here will include the steep fall in demand from Europe and the US, which has already proven a problem for many export-dependent Asian economies, including China.
There will be sessions, both open to the public and behind closed doors, on how the emerging markets can deal with their own development challenges such as sustainability and growing inclusively.
But undoubtedly, much of the conversation will centre around what the Chinese economy will look like in the next decade and what that will mean for the rest of the world, especially in light of a recent slow-down in growth.
Even Tianjin is not immune and recently the local government here announced an infrastructure spending-spree to counter what it called downward pressures.
It includes a splurge of 1.5tn yuan ($240bn; £150bn) to develop 10 industries, including aerospace and petrochemicals.
On a national level, the signs only get more ominous. China's gross domestic product expanded at 7.6% in the second quarter of 2012, its lowest in three years.
Analysts point to a fall in exports and declining industrial output as evidence of further slowing in coming months, and some have lowered their forecasts for full year growth.
Stimulus measures
Meanwhile, pressure has been building on central government to step in and boost growth.
In the last global financial crisis, in 2008-09, China unleashed a massive stimulus package, worth an estimated $600bn, spending mainly on infrastructure.
This time there have been a few moves to release money into the economy, but no stimulus of the same size.
"The leadership is wary to repeat the mistakes of four years ago, when it perhaps overreacted to the financial crisis, unleashing huge amounts of credit into the economy, which had a negative impact on debt levels, inflation and the property market," said Alistair Thornton, China analyst for IHS Global Insight in Beijing.
Others say policymakers are preoccupied with the once-a-decade leadership change expected in a matter of weeks.
However, last week China's powerful planning body, the National Development and Reform Commission, gave the go-ahead for infrastructure projects worth an estimated 1tn yuan, include proposals for more highways, ports and airport runways.
It is the clearest sign yet of the government's intention to encourage growth this time around.
As Western economies stagnate, China and other Asian countries are increasingly being expected to fill the void and drive growth, and exactly how they do that will be the big question at the meeting.