Did a medieval monk predict the double-dip?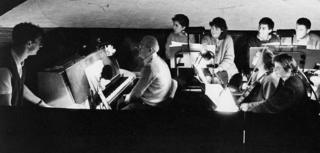 I have always been fascinated by patterns and lines in music - I studied the rise of musical notation, in the form of the "tonic sol-fa" invented by Benedictine monk Guido d'Arezzo in the 10th Century, and the early system of lines and "neumes" (notes) he proposed.
In the beginning, notes on a stave were used to write down and pass on songs that had been rote learned.
But once you get notation, you get theory. And musical theory allowed composers to create tunes and harmonies out of their heads, on paper: to disrupt and play around with tunes instead of simply writing down what flows naturally from the human voice; to create sounds that shocked their audience instead of soothing them.
One of the earliest examples of this is the Kyrie Osbornum, an anonymous manuscript recently found in the archives of an English Cathedral. Written using the Gregorian notation, the piece is remarkable for the way it departs from the "normal" ebb and flow patterns we are used to in Gregorian chant.
The first phrase is a classic, wavering melody, sublime but unremarkable.
The second (on the word Eleison) suddenly dips an entire octave in mid-phrase, stretching the capabilities of the monastic choir to breaking point - only then to soar high above its starting point, giving the whole passage a manic-depressive feel quite unprecedented in the music of the time.
In the final phrase, the voice rises falteringly, only to fall back again - not as deeply, but settling on the "dominant" (sol in Guidonian notation), giving the whole melody the feel of being unfinished.
What has startled musicologists is the similarity of the Kyrie to a graph of the UK's quarterly GDP growth figures since before the Lehman Brothers crisis.
Like the UK economy, the melody starts stable, plunges to unheard of depths, recovers, but falls again at the end. And like the Kyrie, the UK growth graph speaks of disruption, depression, failed recovery, uncertainty.
Controversy rages about the Kyrie, with some scholars determined to prove it is a fake, planted perhaps by an economist who is also a musician, and who has simply projected each 0.25% rise or fall in output onto a four-stave graph.
This school of thought has dubbed the piece the Kyrie Darlingianum.
On Tuesday 11 September at 3.00pm on Radio 4, I'll be digging further into the mystery of this remarkable piece in the first of a new series entitled Short Cuts: Tracing the line.