Trade union officials gather for TUC Congress in Brighton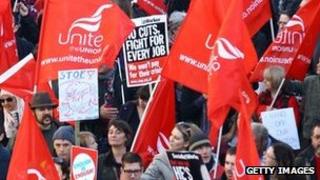 Calls for industrial action over the government's austerity policies are expected to dominate the TUC Congress which is getting under way in Brighton.
About 400 delegates representing 53 unions will debate issues from youth unemployment to banking reform.
The annual meeting is the policy-making forum for the umbrella organisation that represents trade unions.
On Friday, members of teaching union the NUT voted to back a strike over the erosion of pay and working conditions.
Len McCluskey, the leader of the UK's biggest union, Unite, has also said that more strikes - of the sort seen over pensions last year - are inevitable.
Dave Prentis, general secretary of the largest public service union, Unison, believes that pay could become the issue that unions co-ordinate around.
He said that higher food, energy and transport costs meant that the basic necessities of life were moving beyond many of his members.
"I think people have been pushed into a corner," he said. "They are moving into poverty."
According to Unison, public sector workers will have suffered a 15% pay cut as a result of three years of pay freeze.
Mr Prentis insists public service workers do not want to take strike action. But he believes that if the government and employers remain intransigent, industrial action could follow.
"The threat is that if we can't move forward in negotiations to find a way through it then we will move to industrial action. There is no doubt whatsoever that we can create disputes throughout next year," he said.
Pay restraint
The government is under pressure to reduce public sector borrowing, which rose by £600m in July to £44.9bn excluding exceptional items - which was £9.3bn higher than the previous year.
The government's decision to reform pension provision for public sector workers and limit pay rises to inflation is viewed as a key component of the coalition's policy to reduce the budget deficit for 2012/2013 by £5bn to £120bn.
But its policy has put it at loggerheads with TUC members.
Mr Prentis said that the mass TUC march planned for 20 October in London would be a starting point for a campaign that would develop through the winter.
While delegates at the Congress will be asked to back calls for industrial action this autumn, he thinks that its unlikely that strikes would happen that soon.
"If things are going to break it will be in the spring of next year."
He also warned that it was important "not to burn out members", something which he said some unions were doing.
Mr Prentis said unions remained angry over the decision by the Labour leadership to back pay restraint for public sector workers earlier in the year. Ed Balls, the shadow chancellor, will address the Congress on Tuesday.
This will also be Brendan Barber's last Congress in charge after almost a decade at the head of the TUC.
In his keynote address on Monday, he is expected to highlight the Olympics as an example of the positive role that the public sector can play in the economy.
His successor Frances O'Grady will officially become general secretary designate this week.
The 52-year-old will become the first ever woman to lead the TUC when Mr Barber steps down later this year.