Lufthansa resumes flights after cabin crew end strike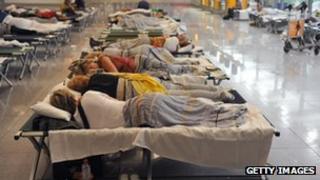 Lufthansa has resumed flights after cabin crew agreed to end strike action that stranded thousands of air passengers.
The airline had cancelled approximately half of its scheduled 1,800 flights because of the one-day stoppage.
But the UFO union representing cabin staff and Lufthansa has now agreed to enter formal mediation talks to resolve the dispute over pay and conditions.
Lufthansa has also made concessions on the use of temporary workers.
UFO is seeking a 5% pay increase for cabin crew and assurances on jobs.
The union, which represents about two-thirds of Lufthansa's 19,000 cabin crew, says its members have had no pay rise for three years.
Another bone of contention had been Lufthansa's use of flight attendants employed by a separate agency on temporary contracts at Berlin airport. The agency staff work longer hours on a more flexible basis.
UFO's attempts to block the practice in court were rejected by a German judge earlier this year.
But on Friday, Lufthansa made a major concession by offering permanent contracts to some temporary cabin crew working at Berlin.
"We hope that this step will help UFO to join us in constructive talks to come up with a competitive pay structure for cabin crew," Lufthansa's chief executive Christoph Franz said in a statement.
The airline has also offered to stop fixed-term contracts and halt the use of temporary staff. But, Lufthansa has not improved its offer of a 3.6% pay rise in return for longer hours.
Passenger disruption
Thousands of passengers were disrupted by the strike.
It affected Germany's six main airports including Frankfurt, Berlin and Munich.
But airlines including Austrian Airlines - owned by Lufthansa but not subject to the dispute - flew larger planes on routes to Germany to offer more seats to passengers affected by the strike.
That helped minimise the disruption to travellers and reduced the need for overnight stays in airport lounges endured by passengers during two earlier strikes.
Lufthansa is currently undergoing a 1.5bn euro ($1.9bn; £1.2bn) cost-cutting programme to offset rising fuel costs and tackle competition from low-cost and Gulf carriers.
The airline reported a 24% drop in second-quarter profits to 229m euros compared with a year earlier. In May, it announced it would axe 3,500 office jobs.