UK industrial output jumps in July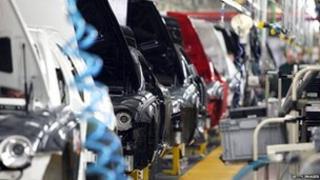 UK industrial output rose at its fastest pace for 25 years in July, official figures show.
The Office for National Statistics said industrial output rose by 2.9%, after dropping by 2.4% in June when output was hit by the Diamond Jubilee weekend.
Manufacturing output rose by 3.2%, the fastest pace for 10 years, after falling by 2.9% in June.
While analysts welcomed the strong rises for July, they warned that the sector still faced challenges.
Potential
Despite the strong rise in July, the ONS figures showed that industrial output was down 0.8% in July from a year earlier.
Manufacturing output, which excludes the energy and mining sectors, was 0.5% lower than July 2011.
"While July's industrial figures show that production bounced back fully from June's drop, the sector still looks likely to struggle in the coming months," said Samuel Tombs at Capital Economics.
David Kern, chief economist at the British Chambers of Commerce, said the monthly increase in July was "considerably larger than anticipated" and that the figures reinforced "the potential for the manufacturing sector to recover".
But he added that longer-term trends in manufacturing remained disappointing, and that he still saw the prospect of a decline in 2012 overall.
Separately, the Producer Prices Index figures from the ONS showed that higher oil prices meant firms' raw material costs rose 2% in August, pushing annual input price inflation up to 1.4%.
Output price inflation, which measures the cost of finished goods leaving factories, rose to an annual pace of 2.2% in August.
Eurozone risk
The UK's economy grew by 0.2% in the three months to August, according to the latest estimate from the National Institute of Economic and Social Research (NIESR).
This followed GDP growth of 0.3% in the three months to the end of July, NIESR said.
While the think tank said it expected the economy to continue to expand, it warned the economy faced "significant" risks, most notably from the eurozone debt crisis.
The latest ONS figures showed that the UK economy shrank by 0.5% between April and June, the third quarter in a row that the economy has contracted.