UK economic growth forecast cut by OECD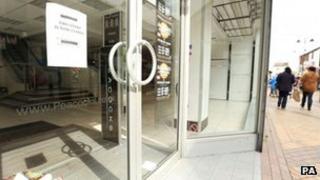 The UK's economy is set to contract by 0.7% this year, according to the OECD, the club of industrialised nations.
The prediction is a sharp revision to its earlier estimate made in May, when it forecast growth of 0.5%.
The OECD also cut growth forecasts for other major developed economies, saying that the eurozone debt crisis poses the greatest risk to global growth.
A UK government spokesman said the figures showed what was already known, that world economies are struggling.
The OECD's report noted that the impact of the Olympics may "not be fully accounted for in these forecasts" for the UK.
'Anxious' wait
The OECD report was published as the European Central Bank was holding a meeting at which it was expected to detail new plans to buy up bonds of struggling eurozone members.
It warned that recession was "taking hold" in the the 17-nation euro bloc, which it said was the biggest threat to global recovery.
The body's growth forecast for Germany - the main driver of growth in the eurozone - was cut to 0.8% from 1.2%.
Pier Carlo Padoan, chief economist at the OECD, said he was waiting "anxiously" for details of the ECB's bond-buying plans.
'Headwinds'
Outside of Europe, the OECD said in its report that the US was now seen as growing by 2.3% this year instead of 2.4%, and Canada by 1.9% rather than 2.2%.
Japan's economy is, however, expected to grow by 2.2% instead of 2%.
The outlook for the rest of the year is not good in the G7 group of leading industrialised economies.
"According to forward-looking indicators, the loss of momentum at the G7 level may persist through the latter half of this year, with the recession in the euro area and associated trade and confidence headwinds enduring," said the OECD.