Manchester United shares fall despite 'buy' advice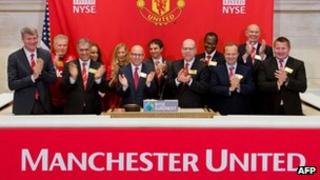 Shares in Manchester United fell 2.2% on the New York Stock Exchange on Wednesday, despite a number of bullish broker predictions for the stock.
Five brokers opened coverage of the newly-floated company on Tuesday, four with "buy" ratings.
Jefferies & Co. - lead underwriter in the flotation - put a price target of $20 on the stock, but Nomura was more cautious, setting a $13 target.
However, the shares fell to $12.90, below their $14 flotation price.
The club's joint chairmen, Avram and Joel Glazer, had been hoping for a price of $16-$20 a share when they sold 10% of the club in an initial public offering (IPO) on 10 August.
The IPO raised $233m (£150m) for the club, which had cancelled plans to list the shares in Singapore earlier this year, citing difficult economic conditions.
Since the New York flotation, the club has seen more than $200m wiped off its stock market value, which now stands at $2.1bn.
The club has said that some of the money raised from the flotation will go towards reducing its debts of £423m.
While Manchester United earned more than £100m in sponsorship and merchandising deals last year, there is concern that spiralling player salaries will eat up profits.