Morrisons sales and profits hit by consumer 'fragility'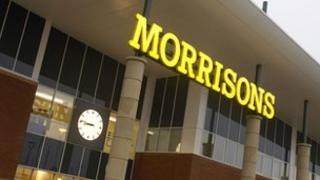 Supermarket chain Morrisons has reported a dip in sales and profits, blaming the continued pressures on consumer spending.
Pre-tax profits for the six months to 29 July were £440m, down £9m on the period last year.
Like-for-like sales, excluding VAT and petrol sales, fell 0.9%, compared with a 2.2% rise last time.
Chief executive Dalton Philips said the figures reflected "sustained pressure on consumer spending".
But despite consumer confidence being "fragile", he said that Morrisons was making "steady progress in a challenging environment".
He said the next few months would see an expansion of Morrisons' online operations, and the launch of convenience stores in London.
Morrisons said in its results statement that it was seeing more customers than ever "searching for value" in the supermarkets.
This comes at a time when record levels of new grocery store space are being opened.
The company, the UK's fourth largest supermarket, said it expected this "imbalance" to be short-term, but it would continue to weigh on sales.
Latest industry data from research group Kantar Worldpanel showed Morrisons' sales growth lagging its main rivals.
This is partly due to Morrisons' lower level of store openings. However, speaking to the BBC, Mr Philips rejected suggestions that the supermarket lacked a clear strategy.
He said Morrisons was delivering on its strategic plan. "This is a strong business with 11.5 million customers every week," he said.