Qantas forms Emirates alliance as it seeks turnaround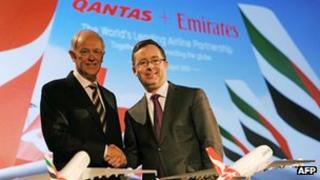 Qantas Airways has agreed to form a 10-year alliance with Emirates as it looks to turn around its loss-making international operations.
Under the terms of the agreement, the two carriers will collaborate on pricing, sales and flight scheduling.
However, there will be no equity investment on either side.
Qantas, which has been hurt by slowing demand, growing competition and higher fuel costs, said the alliance was key to reviving its international unit.
"A key objective is to make Qantas International strong and viable, and bring it back to profitability," said Alan Joyce, chief executive of Qantas.
"This partnership will help us do that."
Qantas will end its existing relationship with British Airways and also shift its hub for European flights to Dubai from Singapore.
Cutting routes
Qantas' international operations have been one of the biggest areas of concern for Qantas.
The division made a loss of 450m Australian dollars ($460m; £290m) for the financial year ending 30 June 2012.
The firm has been taking measures to try to turn around the fortunes of the unit, including cancelling services on loss-making routes.
The alliance with Emirates could help it cut further flights and focus on profit-making routes.
Emirates flies to more than 70 destinations in Europe, making it easier for Qantas to cut flights while still being able to service those destinations.
Qantas has already announced that it will stop flights to Frankfurt.
"This Emirates partnership will help us make an orderly withdrawal, and also ensure we can continue to service our customers over the long term," Mr Joyce said.