South Korea's second quarter growth misses estimates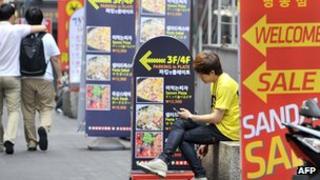 South Korea's economy grew at a slower pace than previously estimated, hurt by a fall in capital investment and a slowdown in exports.
Growth was 2.3% between April and June, compared with a year earlier. That is slightly lower than the central bank's earlier estimate of 2.4%.
Compared with the previous quarter, the economy expanded by 0.3%, also missing the earlier estimate of 0.4%.
The weak data may prompt policymakers to boost stimulus measures.
"The possibility that the simultaneous weakness in exports and domestic demand will continue in the third quarter is leading to expectations for a rate cut next week," said Lee Sang-jae, an economist at Hyundai Securities.
Uncertain future?
South Korea's growth in recent years has been powered by the success of its exports sector, which accounts for nearly half of its total economic output.
However, slowing growth in key markets such as the US and the eurozone has hurt demand for South Korean goods, underming the country's economic growth.
Exports fell 1.4% in the second quarter from the previous three months, according to data released by the Bank of Korea.
The slowdown in global demand has also hurt business confidence and resulted in some firms scaling back on investment.
According to the central bank, capital investment fell by 7% during the period, from the previous three months.
Meanwhile, domestic demand has not risen fast enough to offset the decline in foreign sales.
The central bank said that, given these issues, it was hard to predict whether the economy would bounce back in the coming months.